How To Overcome Challenges Facing Private Medical Practices
According to Becker's ASC, over 26% of physicians operate out of a private practice. Whether you focus on primary care or mental health, private practices are integral to the health care system.
Unlike larger health care offices, private medical practices allow physicians to set their own schedules, develop ties to their community and form meaningful, long-lasting relationships with patients. Since these settings are more cozy and intimate, people often flock to them for a more personalized approach to their healthcare needs.
Private medical practices also offer an increased earning potential since the practice only offers the services they specialize in. This ensures high-quality care that cannot be topped.
From isolation to continuing medical education (CME) struggles, private practice clinicians must rise to meet and overcome unique challenges to ensure their businesses can serve the patients who need them most.
Let's look at the top five threats facing private practices and what you can do to ensure they don't impact patient care.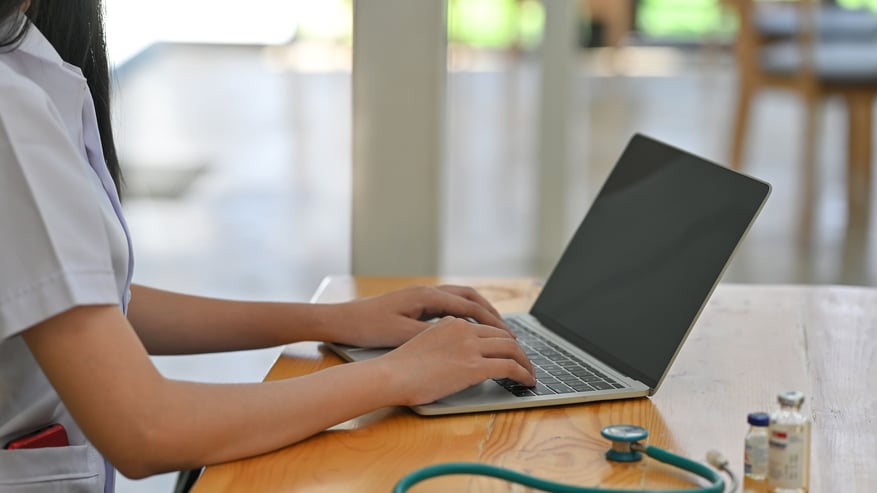 1. Lack of Relevant Continuing Medical Education Activities for Staff
Medical students aren't the only ones who are interested in learning. Medical professionals are required to earn a certain amount of CME credits to maintain licensure in their state.
Whether it is due to limited resources, budgets, or expertise, many private medical offices fail to meet their requirements when it comes to CME opportunities for their staff members.
You can set up and manage your own CME programs if there are no existing options for your field and specialty. You can use a CME learning management system (LMS) to organize and facilitate CME programs for your doctors, nurses, and staff.
Not only will designing your own online CME activities bring enriching experiences directly to your staff, but you can offer them at a cost to other physicians, opening up a new stream of income for your private practice.
And if you choose the right eLearning platform, you'll gain access to a team of CE experts who can help you plan, design, and implement your continuing medical education offerings.
2. High Staff Turnover Means Training Challenges
The healthcare industry was shaken to its core during the peak of COVID-19, and this shock led to many doctors and nurses leaving the industry due to exhaustion. In fact, staffing has become one of the top challenges in the medical industry. Recruiting is difficult, especially if your private practice is in rural areas.
Not only is it expensive to recruit new physicians and healthcare professionals, but the time and costs that go into new hire onboarding are astronomical, especially if your area has a high turnover rate.
If your healthcare practice saw a high rate of turnover in recent years, you can address the needs of your new staff by implementing virtual CME opportunities and courses. These educational courses can help new members meet their CME requirements and introduce them to the culture at your medical office.
Virtual training and development allow you to design a course that fits your practice's needs and enable new hires to complete training modules at their own pace.
Additionally, the courses can be reused and updated as needed, meaning you won't have to shift staffing from their everyday tasks to training sessions as often.
This will free up your current employees to focus on patient care since they will not have to cover specific training topics that your eLearning course can handle.
3. Physician Burnout
While working within a private practice usually offers a better work/ life balance than in other medical settings, there are still some challenges physicians must deal with.
Due to small staff and limited resources, independent medical practices usually can't offer the same amount of sick or personal days to their staff. That's because they tend to have just enough staff to cover their operating hours, and if the practice is closed, they cannot make money to keep doors open.
53% of physicians report feeling burnt out by their overwhelming duties and workload, meaning it's a common issue that needs to be addressed. This leads clinicians and healthcare professionals to experience burnout as the never-ending hours impact their mental health.
To reduce feelings of burnout, offer flexible work hours and telehealth options for patients to take advantage of. When used correctly, telehealth can make the healthcare experience more convenient for both the patient and your doctors while still providing a high level of care.
By offering virtual visits, you can reduce patient traffic in your office while increasing your availability for those who need your services.
4. Administrative Burdens
Practicing medicine isn't the only aspect of running a private practice, because you still have to oversee all administrative activities needed to run a successful healthcare facility. From prior authorizations and reimbursements to billing and coding, quite a few administrative tasks are required to run an independent practice.
Factor in maintaining patient charts, tracking CME activities, and administering certificates for your staff, and you may feel like you spend more time pushing paper than patient care.
Since you and your team want to provide the best patient care possible, you should look to online platforms to automate and streamline administrative tasks. Electronic health records, or EHR, are rising in popularity because it allows physicians to chart in a shared space and patients to access their records more easily.
To help with tracking CME, turn to an online learning platform that offers automated certificate delivery and tracking. This will allow you to access your CME records in one central dashboard so you can find your certificates when the time comes to recertify your license.
5. Feelings of Isolation
Operating an independent practice can be lonely, especially if you and your team are just starting to serve a local community.
If a physician transitions from medical school right into private practice, they may struggle to find a mentor in their field who can help them develop their skills since these practices tend to have smaller staff sizes.
And if they practice in a specialty area, like surgery, they may find it challenging to make connections and network with others. These feelings of isolation can drive them away from private practice and towards more populated healthcare settings.
Hosting webinars is a great way to share important information and connect physicians from the same practice area. Not only can webinars introduce your doctors, nurses, and staff to new educational opportunities, but these webinars can also help build a sense of community among your team.
Ease Top Challenges Facing Your Private Medical Office
Even though running a private practice comes with challenges, it's an incredibly rewarding experience for all involved.
It allows physicians to practice medicine in communities that need them the most while building a brand that will sustain them throughout their careers.
So to keep your private practice thriving, you must turn to virtual options that will help reduce administrative workloads and create opportunities to help your employees learn new, innovative skills.

BeaconLive can help you find the solutions your independent practice needs to take your team to the next level. Contact us today for more information on how webinars, online CME, and automated reporting can help.
---