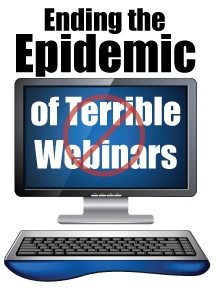 We've all attended them. You either pay a lot of money to attend a continuing education webinar or you get really excited to attend an event that promises to teach you how to do your job better. But when you login, you are too distracted by all the gadgets in the web room, the terrible sound quality or busy PowerPoint presentations to really pay attention to what the presenters is delivering. This is called the Epidemic of Terrible Webinars.
Why Do So Many Bad Webinars Happen to Good People?
These ugly webinars have been plaguing our calendars for too long, and for all webinar attendees sake, BeaconLive has decided to stand up against them, and teach presenters and hosts, How to NOT deliver really bad webinars.

In a recent webinar hosted by a reputable webinar guru, we learned why the "Marketing Webinar Gulf" exists between Good and Bad/Ugly webinars and why so many companies struggle to effectively integrate webinars into their marketing mix.

We found that companies are afraid to take on the huge task of a webinar. They are afraid of technology, and they are afraid of what might go wrong. Their organization's reputation is at stake. In this day in age, working with a professional team to facilitate part of your business plan on your behalf is not a new idea. We hire accountants to do our complex taxes and we rely on consultants to guide us in the best direction for our firms. Simply acknowledging your organizations lack of knowledge in an area is the first step. When you hire a professional webinar provider, they will work with you to ensure that your event is professional, from the initial login process for your event attendees, to ensuring that your PowerPoint are efficient and succinct.

When considering to launch a new webinar series, you have to review the Risk vs Reward. It's quite possible that you have attempted to tackle the webinar task on your own in the past, only to be swamped with more work, and unsatisfied with the result. This is to be expected. There are not many webinar experts out there, so when you want to do something right, it's best to align your efforts with the professionals. Don't write off webinars just because your DIY event didn't go as smoothly as you hoped.


We have found that the top causes of Bad or Ugly webinars is lack of time invested into its preparation. Like with most significant projects, you cannot just throw together the presentation the day before the event, you cannot just wing the presentation, and you cannot assume that all technologies are intuitive, and that your Marketing Coordinator can run it on their own. Bad webinars come from bad preparation. The two prescriptions we suggest are understanding your goals for the event and what it will take to accomplish them, and working with a professional team that has delivered thousands of events before.


What are your needs for delivering a webinar? What are your goals? What members of your team will be facilitating the event? Should you partner with a full service webinar provider or a DIY vendor? These are all questions you should prepare answers for before even deciding to host a webinar. Clearly answer your questions before entering the planning stage of your event.

Did you know that marketers who deliver successful webinars are doing it constantly? Consider it, the first blog you wrote probably sucked, the first presentation you delivered in front of a group likely expressed your nerves more than the content. But practice not only makes perfect, but also builds momentum for the future.
---