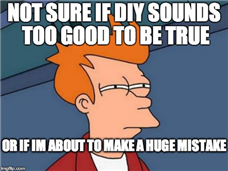 The term "DIY" (Do-It-Yourself) seems to be buzzing everywhere you look, specially in sites like Pinterest and WikiHow. We would all rather do something ourselves than pay someone else to do it, and that's usually the smarter option. However, there is a big difference between taking on a craft project for yourself and organizing a webinar for your company.
Most webinar providers offer a standard selection of services, with the option for DIY or Full Service being the biggest differentiator. In our industry, when we describe a webinar platform as DIY it's referring to a platform with limited features, little customization, and no live support. This might be a good option for you if your webinar is a small scale effort and doesn't require much engagement with the audience or post event support. But if your virtual event needs to be taken to the next level of professionalism than this option may not satisfy your needs. [View DIY vs. Full Service Flyer]




The Pros of DIY:
Economical Prices

Free trials

Good enough for small/basic events
The Cons of DIY:
You get what you paid for: limited support

You are responsible for your event running smoothly

Software/app downloads are usually required, creating issues for the attendees

Not all DIY vendors provide registration capabilities

The recording of your event won't be edited; mistakes will be captured

Pre/Post tests or evaluations are usually not an option

Continuing Education capabilities are not available

Your registration page will receive little customization to none

No Live Support
There are more reasons to consider why DIY might or might not work for you, but essentially it comes down to this: can the DIY vendor meet all of your needs?
Many of our clients have come to us after trying the DIY option and realizing that you outgrow it very quickly. DIY platforms are just not designed to do it all. So if you're afraid of delivering a webinar for the first time and would like guidance or if you find that the DIY option is just not good enough for your event, contact BeaconLive today to learn about our Full Service solution.
---