When monetizing Continuing Education content or delivering Virtual Professional Development to your employees or subscribers, using Certificates is a great way to hook and retain the attention of your goal-oriented eLearners.
We've outlined several reasons below why utilizing Certificates can improve your eLearning delivery:
Certificates Align With Smart Goals
Many learners find best results when creating SMART goals in their personal and professional lives. Goals "provide a sense of direction, motivation, a clear focus and clarify importance." SMART is an acronym meaning:
Certificates align with the SMART goals as they are specific, measurable, actionable, realistic and timely. You can award result-driven behavior with a tangible certificate. You can break down courses into smaller modules and align learning objectives with SMART Goals.
Certificates Are Conducive to Micro-Learning
Micro-Learning means breaking down learning into smaller, more digestible modules. Oftentimes educational programs can be dense and overwhelming. You want your subscribers to feel encouraged and invited by your learning experience. "A bite-sized approach is an adept solution."
You can have your goal-oriented learners complete one module at a time, allowing them to hone in on specific topics as they build towards their overarching certificate. HubSpot Academy does a great job in breaking up their eLearning & Certificate programs into small modules:
Certificates Award Feelings of Accomplishment and Completion
Your organization can create a Knowledge Base, whether that is for monetary or in-house purposes, that hosts all of your offered Certificate programs.
Goal-oriented leaders love feeling a sense of accomplishment and completion. The psychology of these results-driven learners will push them to complete all of the Certificate programs that you put into your Knowledge Base.
This BankersWeb Knowledge Base is a great example of an organization that is using Live & OnDemand Webinars as well as Certificate programs to appeal to their eLearners. A goal-oriented learner will be driven to stay on top of all of these programs.
Certificates Create Familiarity and Fuel Loyalty
If you have an eLearner that has completed one or a few of your certificate programs with a positive experience, chances are they will be coming back to complete more of your programs.
Your subscribers will get comfortable and familiar with your platform, your speakers' teaching styles and the type of assessments you will be conducting.
Download BeaconLive's Complete Feature List to learn about our advanced eLearning functions & features.
You can offer "master certificates" for those who have completed all of your educational offerings. You can offer discounts and promotions for those who have shown loyalty towards your brand. This will definitely appeal towards your goal-oriented learners.
Make sure your technology provider has a proper Learning Management Solution to accommodate an advanced level of tracking & automated certificate delivery for your eLearners.
Certificates Turn Subscribers into Promoters
Chances are that anyone who is motivated by results and accomplishments will want to publicize those accomplishments when they are completed. Appeal to our incessant desire for posting life accolades on social media with your Certificate delivery.
Create social posts for people to publicize as soon as they complete a course or earn a certificate. Create PDFs & JPGs for your eLearners to attach to resumes and add to their LinkedIn profiles. Consider giving them a discount code for friends & family who see this accomplishment and also want to sign up for one of your courses.
Certificates fuel a cycle of success, for both your organization and your end-users.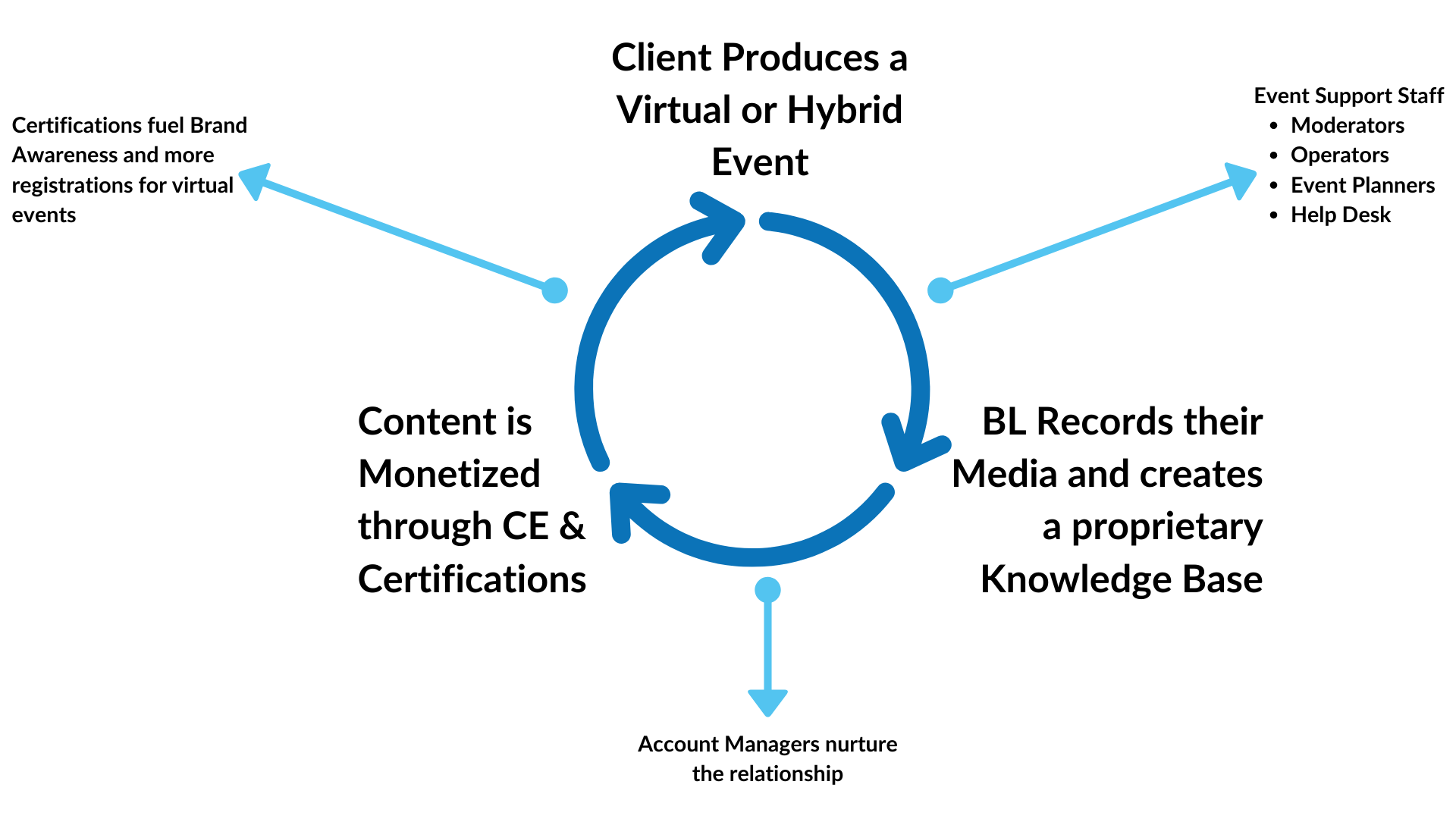 Going virtual for your Continuing Education and Professional Development delivery is a great way to expand your outreach and appeal to many different learning styles, schedules and interests in education.
If you are looking to improve your employee engagement through learning & development, consider reading our blog here.
If you are looking for a technology provider who can support Certificate delivery, and all of the content production, execution and management that comes with it, consider reaching out to BeaconLive, an end-to-end virtual content delivery platform.
---