We all understand the importance of tracking your webinars analytics to determine the ROI of the event. But have you considered analyzing the analytics BEFORE the event even begins?
What would you do with the magic numbers that could make or break the success of your webinar? In this blog, we will discuss the 6 analytics that you should be tracking before your webinar begins to ensure your live event's ultimate success.

1. Where Are Your Registrants Coming From?
It's important to know what marketing tactics (newsletter invites, social media, press releases, etc.) you should invest your time/money into in order to achieve a better ROI by repeating what is successful. Taking the idea of tracking your promotional activities a step further, we recommend cloning your registration page, then using unique links for each method of promoting your event. With separate registration pages, you can track which marketing method directs more traffic to your registration page, and ultimately converts the person into a webinar attendee.
2. When Will They Register For Your Event?
It's important to keep a few factors in mind when analyzing your registration before the event begins. There will always be ebbs and flows with registration as people finalize their schedules for the coming weeks. While many people will plan to set aside time to attend a mandatory continuing education event, other professionals might be tentative to register for an event so far in advance, because they don't know what will happen with their schedule. You will even find many people will register last minute because a meeting was canceled that freed up some time. If you plot the registration of multiple events on a chart, you will notice trends of when email invitations went out (with high spikes) and the weekends (with low valleys), so you need to take your registration rate in stride. That said, if your event is not following the trends of registration peaks following a promotion, you may want to reconsider the day/time, title, or presenter within the event.
3. Who Is Promoting Your Event?
Another thing to consider before the event goes live is how much the presenter or sponsor is helping you promote your event. If you hire a big name presenter they may have a larger list of contacts to promote the event. If you look at the chart below, you will see spikes and valleys of registrants by the day. The blue represents an event with a popular and well-connected presenter. Each time she promoted the upcoming webinar to her list of contacts, we see a spike in registration. The red represents a lesser-known presenter with a smaller contact list. By tracking where the registrants came from, we found that the majority of these people were informed of the webinar from the event host.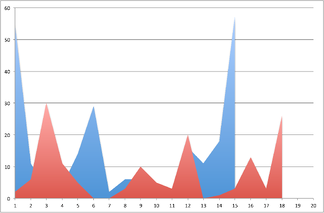 4. Is The Attendee Already A Contact?
When beginning the process of delivering a webinar, you need to determine what the value of adding a new lead to your database is worth. If this is a lead generation event, then promoting your event to existing customers or prospects in your database may not be as important as finding new leads. The conversion rate might be less valuable than if the event was full of prospects interested in learning more about your company.
If you are promoting a continuing education event that is applicable to a large number of professionals within your industry, you will want to promote the webinar to everyone in your (segmented) database, as well as encourage attendees to update their social statuses or recommend the event to their colleagues. In this situation, the value of all attendees is equal. Once you determine the value of the registrants, you can better calculate the ROI of your event.
5. Are Your Registrants Talking About The Event?



While promoting your event on Twitter or Facebook may not be the best use of your marketing department's time, you should consider that your registrants may be discussing your event before they even attend. Monitoring the chatter before a webinar begins with social listening tools, such as Hootsuite, will give you an idea of how much 'buzz' is surrounding your event. However, be careful about taking the conversation about the live event to a social network, because there are absolute cons for encouraging registrants to use social media during the event.
6. What Are Your Competitors Doing?



While we don't recommend that you stalk your competitors to copy their content or promotional strategy, we do stress the importance in knowing what they are doing so you can accurately illustrate what makes your event different. Similar webinar topics are being presented every day, so it comes down to providing something new and relevant to stay ahead of the game. Monitor how your competitors are promoting their webinar series, and take notes. What are they doing repeatedly, and what did they try once and then quit? A competitor is not always a nemesis, but often someone you can learn from.
---