Webcasts Are Adapting To Advanced Technology At The Speed Of Lightning
Before webinars, FaceTime or Google Hangouts, there was only the convenience of one-way streams and recorded video to communicate across the web. The ability to broadcast meetings and events was a rare novelty during the early days of the internet.
However, it soon became a common practice and necessity, resulting with the word "webcast" being coined in the 1990's to describe the ability to broadcast video and audio over the internet without requiring the viewer to download the video or pre-record it.
Today, webcasts are a staple in the world of virtual events. They enable hosts to reach a large audience and support the sustainability trend in event hosting. But with the rise of other modern technology, where is the future of webcasting headed?
It's already here.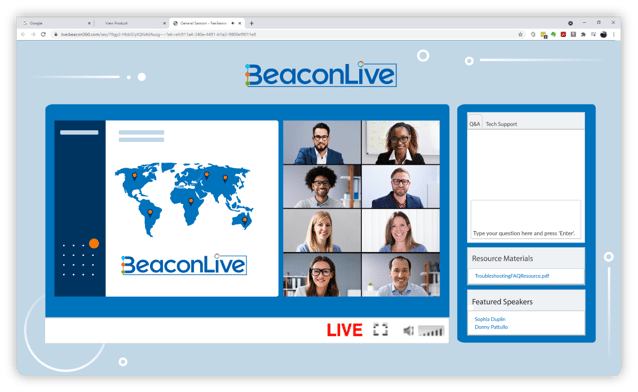 What Does Webcasting Look Like?
Webcasting is a live or OnDemand recording that is streamed directly to an event attendee. The event host can present videos, slides, and infographics to both an in-person and virtual audience in either a video or audio-only format.
Audience members with an internet connection can access the live event on any device from anywhere in the world. Businesses can use webcasts for a variety of purposes.
To Hold Online Meetings

Promote New Products

Accommodate A Large Audience For E-Training

Create OnDemand Video Content

Build Awareness For Upcoming Webinars And Events
Webcasts can be single events or combined to create a webinar series that your audience can access long after the live event. This makes it an excellent tool for business owners, marketers, and educators to reach a large audience with their important message and content.
How Do We Know The Future Of Webcasting Is Here?
The reason why we say the future of webcasting is already upon us is demonstrated in all how event hosts take webcasting to the next level.
Online Registration For Virtual And In-Person Attendees

You Can Address Virtual Attendees' Live Questions And Comments In Real-Time Through A Live Moderator

Engaging Your Attendees Across Social Media With High-Quality Content

Enhanced Viewer Experience With Webinar Platform Features, Like Gamification, Live Polling, And OnDemand Webinars
With the right vendor, the functionality of your live webinars and webcasts will improve, and you will thoroughly engage your event attendees with your webcast.
What Can We Expect From Webcasts Going Forward?
It's already clear that virtual events are trending, with no sign of them leaving in the future. Moving forward, expect to see in-person events regain popularity and be rebranded as hybrid events.
Here is what you can expect from the future of webcasting.
Expect This From Webcasts

What It Looks Like

Why It Matters




More Hybrid Events

Hybrid Events Allow Hosts To Present To A Live Audience While Webcasting To A Virtual Audience.

So Many People Are Opting To Work From Home, Meaning Putting Your Live Event On The Web Will Increase Attended Numbers And Interest.





The Advent Of Automation

High-Quality AI Bots Will Take Over More Mundane Event Planning Tasks Like Answering Basic Customer Service Questions Or Sending Follow-Up Emails

With Marketers And Event Planners Organizing Hybrid Events, Automation Will Free Up Time For The Most Important Tasks.

Customized

Pop-Up

Messages

Online Participants Will See A Pop-Up Message In A New Window That Can GIve Directions Or Provide A Link To A New Product Or Information.

Pop-Up Messages Make It Easier Than Ever To Provide Information To Your Virtual Audience During A Live Webinar Or Live Webcast Without Having To Give Tedious Directions.

Increased Globalization

Webcasting Will Bridge The Gap Between Continents Even More By Bringing Together People From All Over The World.

Access To New Ideas And Collaboration Opportunities Will Undoubtedly Improve Your Brand And Business Dealings.
The webcast and webinar service provider you choose should have their fingers on the pulse of the virtual events industry.
Always check to see if they offer the latest technology and trending features to engage your audience and streamline your event flow.
How Can I Take My Live Webcasts To The Next Level?
If you're not already incorporating advanced features into your webcasting meetings, you may need some updating to ensure your brand remains relevant.
Here's how your webcasts can catch up to what's trending:
Set A Goal: Decide how many on-site and online audience members you hope to reach. This will help you determine the type of location you will host the event and the kind of webcasting provider you will need.

Work With Your Presenter: Collaborate to come up with a slide show presentation that works for the in-person attendees and the online attendees. Keeping the presentation short with little verbiage works best to allow attendees to engage with the presenter and not just read the screen.

Take Care Of The Technical Side: Select and schedule your webcasting platform and crew. Discuss lighting and audio setup, as well as online preparation for the virtual audience. Some other details to consider are: can they set up a registration page for the online portion of the event? Can they provide any handouts or PowerPoint slides to the virtual audience on the day of the event? Can they help promote and recruit an online audience?

Make Introductions: Introduce the webcasting team to the site's point of contact, so their internet, electricity, and lighting needs are attended to promptly during the event.

Prepare For The Q&A: Have a microphone set up for the in-person attendees to ask questions. When taking a question from the on-site audience members, be sure to have the presenter or a member of your team repeating the questions for the online audience to hear clearly.
There are hundreds of tiny details to consider when delivering an on-site and online event simultaneously. One wrong move could create a ripple effect that throws off your webcast. Partner with a webcast provider to ensure no detail is missed.
When you work with a professional webcast provider like BeaconLive, they will capture and broadcast your event, which allows you to focus on your brand and engage your in-person and virtual attendees.
---