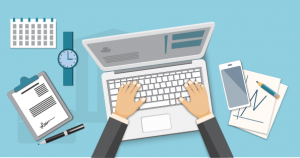 Adding webinars to your marketing strategy is an effective and important approach to today's technically-savvy audience...that is, if you can do it right. Because, after all, did a webinar really happen if no audience was there to see it? You get the point; having an audience (the right audience) attend your event is just as important as the event itself in order to achieve the results you're looking for from hosting it. Learn below what your webinar invitation is missing in order to attain those desired results:
Before anything else, make sure that your webinar invitation can be viewed on any device

—

in any format. This means your email templates should not only be optimized for HTML, plain text, and image-free viewing but also for mobile viewing.

"The number of smartphone users worldwide will surpass 2 billion in 2016 [...] and by 2018, over one-third of consumers worldwide will use smartphones" (

Tech Crunch

), making this element the most influential piece to your webinar's success.

Next on your checklist is the design of your email template and registration page. Often times, this is an overlooked detail that makes all the difference. Having a uniform design is not only expected (and the professional thing to do), but it also reinforces your brand's identity. Email invitations and registration pages that don't match the company's branding guidelines tend to confuse and annoy people

—

leading them to give up on the process and skip out on your event.

Third, studies show that there

is a 23% increase in open rates when you use the recipient's name in the first line of the email or in the subject line.

Make sure the webinar platform that you use offers personalization features such as: first name, title and company name. Identifying those key elements can also be helpful when you get into email segmenting.

One of the most cited reasons why people don't attend an event after they registered is simply because they "forgot". Prevent this from happening by using a webinar provider that offers c

alendar invitation integration. This way when people register for your event, they will have the option to add it to their personal or work calendar and it stays on their radar.

Lastly, your webinar invitation efforts should not stay limited to email. Use several social media channels to reach different audiences. For example, professionals in your industry may be more likely to respond to your invitation through LinkedIn rather than Facebook. Though Twitter will nearly always be the most effective way to reach out to a broad audience. Regardless of your social media platform of choice, focus on the channel where your biggest audience engages the most.
Webinar invitations should be something people look forward to, not avoid or ignore. It provides them with free information and knowledge from the comfort of their own home or office, after all. Learn how to successfully promote an event in our complimentary white paper: 7 Ways to Increase the Attendance of Your Virtual Event!