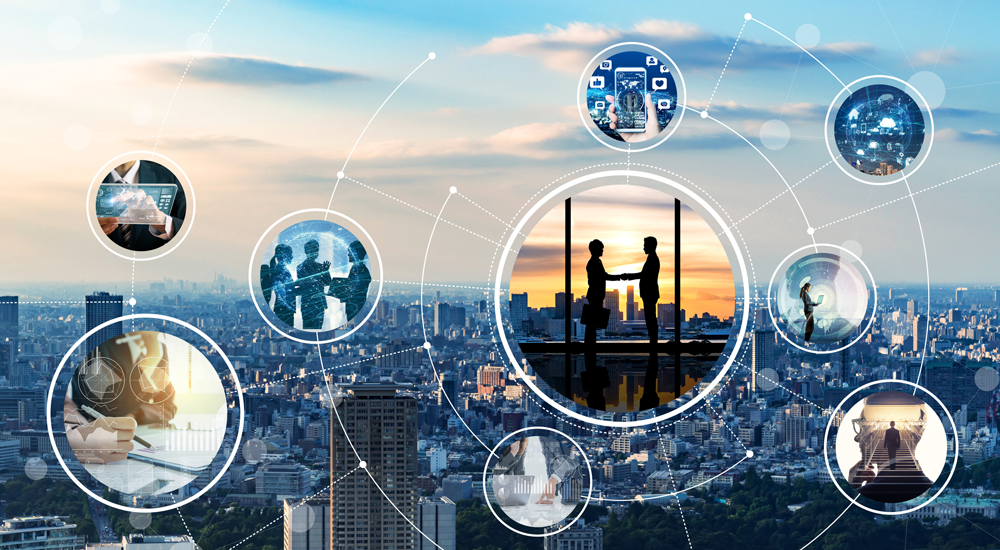 As a professional in the Continuing Legal Education space, you likely have a LinkedIn profile set up for yourself—and hopefully for your organization, as well. LinkedIn has over 575+ million users, of which 260 million are active on a monthly basis. 104 million people actually use LinkedIn every single day, hence the reason why this social site has become a powerful business tool for more than just job hunting and networking with former employers and current colleagues. But are you taking advantage of all the opportunities the platform offers?
When 90% of LinkedIn users consider the network to be helpful, particularly with respect to connecting with industry leaders and potential customers, the motivation to regularly participate becomes even stronger. Technology is playing an increasingly large role across all facets of the legal industry, so if you haven't brushed up on your LinkedIn knowledge, there is no time like the present.
Below, we outline six ways in which CLE professionals can derive value from LinkedIn. Start capitalizing on your network and the tools this platform provides by adopting the following strategies…


1. Deliver Compelling Content to Your Connections
Many LinkedIn users (from all industries) don't realize how developing a daily LinkedIn habit can help to position them as thought leaders within their fields. For CLE professionals—who work in a relatively niche space—the potential to showcase industry expertise is even greater. And one way of doing this is by regularly posting content, both original and third-party.
If you aren't really a writer, providing a steady stream of curated industry news is a quick and relatively painless way to attract the right kind of attention, build trust, and generate a following. Even if your writing skills are proficient, sharing third-party content is a best practice to which CLE professionals should adhere if your goal is to enhance your personal brand—or your company's. Other examples of appropriate content worth sharing with your connections include articles from your organization's blog, invitations to webinars and other virtual events, and CLE course info (complete with captivating descriptions).
But, of course, writing your own original posts and publishing them on LinkedIn is the most effective way to showcase your thought leadership. By doing so, your content becomes part of your professional profile—displayed in the Articles section, it's shared with your connections and followers in their news feeds, and it can actually be searchable outside of LinkedIn! Just remember, the more helpful and educational your content is (as opposed to shamelessly promotional), the more people will start to take notice of your contributions and see you as a reliable and knowledgeable resource.


2. Join Relevant LinkedIn Groups
Seeking out, joining and participating in legal industry-themed LinkedIn groups is another great way to develop your identity as a thought leader. Plus, LinkedIn groups provide multiple channels for raising awareness about your CLE programs. Note that of the 81% of LinkedIn users who belong to at least one group, 52% participate in group discussions! If you haven't explored this LinkedIn feature yet, we suggest you go to your profile right now and, in the search bar, click on the drop-down menu to select 'Groups' and start typing in some relevant keywords and phrases.
While CLE groups aren't heavy in numbers, there are plenty of groups dedicated to the legal and education industries that might suit your needs. However, if after a thorough search you don't find what you're looking for, you can always start your own group! Just keep in mind that LinkedIn groups are meant for collaborating and presenting ideas on a certain topic—not for you to deliver a sales pitch.
Along these lines, when leading or engaging in group discussions, it's important to position yourself as a resource. You can direct members to additional information, whether it's relevant content published by your organization or by another company. You can also prompt conversations by posting interesting questions, publishing surveys, or gathering feedback on topics you are researching. Above all, don't overly promote your CLE programs, products or services. While occasional promotion is okay if it's tempered with other resources and posts (think third-party content), LinkedIn group members can flag you according to LinkedIn's SWAM (Site Wide Automatic Moderation) policy if you go overboard, and you could be removed from the group completely.


3. Generate Leads and Customers for Your CLE Program
If your CLE organization leverages an inbound marketing strategy, posting content in your news feed that redirects LinkedIn users back to your website is an effective way to organically generate qualified leads. For example, if your company website offers downloadable resources in exchange for contact information (via a form), you can publish a succinct post—with an image of course—that brings users to the respective landing pages. If the LinkedIn user converts on the offering, you now have a new contact (or perhaps even a customer) in your database to market to! Build up your following, post at a regular frequency, and you'll start seeing an uptick in new leads originating from social media. You just need to provide them with a place to go and content to consume.
However, LinkedIn offers (and continues to expand on) numerous paid advertising tools. CLE professionals can easily target other users in the legal industry—based on all kinds of job-related criteria—with Sponsored Articles, Text Ads, Sponsored InMail, and more. If you don't have any forms on your website, LinkedIn even has you covered there! The key to writing a successful ad is to call out your audience. In fact, LinkedIn ads showcase a 185% higher engagement rate when the target audience is directly addressed in the copy.
One paid LinkedIn feature CLE professionals can take advantage of is called Matched Audiences, which allows you to home in on users through website retargeting. Website retargeting allows advertisers to show ads to members who have visited specific pages on their website (a pricing page or CLE course page, for instance) and more efficiently promote the material in which they've demonstrated an interest. And the best part? LinkedIn advertising allows you to cap your spend in an intuitive manner, so you don't have to break the bank to use it.


4. Conduct Market Research
Making LinkedIn part of your normal routine will encourage you to keep tabs on current industry affairs. Thought leaders are leaders for a reason. They follow other industry influencers, they read their posts (and share or comment on them), and they stay on top of important trends so that they can easily speak to them and make credible recommendations. So take some time every day to click-through a few articles posted by industry news sources or your favorite legal professionals and get a better handle on what's happening in your market. And pay special attention to the posts that are receiving the most love from the public.
Moreover, LinkedIn is a helpful platform when it comes to conducting research. Unsure of whether people will find your CLE program successful? Start a conversation within several (relevant) LinkedIn groups by asking people for their opinion on the matter and how your idea can be improved. You may find a lot of valuable answers and suggestions from other group members.
As we mentioned before, you can also use LinkedIn to launch a more formalized survey. Sending a link to group members, pinging your colleagues via the chat-like LinkedIn Messaging function, or posting the survey URL to all those who see your content in their feeds can all be efficient ways for collecting data that will help you make decisions about your CLE program OR generate a report that can be designed, refined and published into a PR, lead gen, and influence building tool.


5. Identify Industry Experts for Speaking Engagements
One of the most important differentiators for CLE program providers is to offer courses that are delivered by well-known speakers who have a record of expertise regarding the material they are presenting. People demand relevant content—and they want to learn from the best option available. So why not use LinkedIn to track down authorities on the topics you'd like to advertise to your current and prospective CLE customers.
There is certainly no shortage of practicing law experts on LinkedIn. People search for them all the time. In fact, 94% of LinkedIn users are likely to use the platform to research an attorney they were referred to by someone they know, and 68% are likely to use the search function to find a lawyer who can help them with their particular issue.
Another advantage about LinkedIn is that you can peruse a potential speaker's credentials before even introducing yourself. Not only does LinkedIn help you expand your CLE network as you begin to follow up with new connections but it can help you grow your business by giving you access to legal thought leaders from all over the country. Should your CLE program be eLearning based, this is the social network you want to dive into!


6. Connect Before a Conference
Last but certainly not least, a number of CLE conferences will provide you with a list of attendees prior to the event for networking and communication purposes. While you may not have their actual contact information, it's a wise idea to identify your fellow attendees on LinkedIn and connect beforehand in case you'd like to schedule a meeting, lunch, or quick coffee break in between sessions. Using LinkedIn, you can learn about the people who are attending and send a note to those individuals you may be interested in doing business with. Some conferences will even create a LinkedIn group just for the registered attendees to make it easier for you to network, so you should have your profile fully fleshed out!
You may have also noticed that LinkedIn has added a chat pop-up to the home page, which enables you to reach out without having to leave your news feed. With the popularity of messaging apps on the rise, this may be a more comfortable way to contact attendees once you are connected. The best part is LinkedIn's relatively new conversation starter feature—where you'll see notifications that are meant to help you "break the ice" with connections who have worked at the same company, belong to the same group, share a connection with you, etc.

The moral of the story is this: if you work in CLE and you aren't active on LinkedIn, it's time to make the transition. As you can see, there are so many ways you can take advantage of this network to boost your brand, attract new business and transform your network. So start familiarizing yourself with the social tools available to you on LinkedIn today!
---