Lets face it, in today's customer driven world, if a prospect requests something from you, you have about 2.5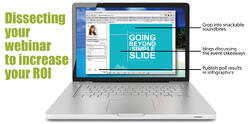 seconds to respond before they move on to another vendor. Yet, following up on the request with an eager sales rep might scare them away faster than ignoring them all together. In this blog, we will discuss how to increase your ROI with webinars.
According to Forrester Research, today's buyers might be anywhere from two-thirds to 90% of the way through their journey before they reach out to the vendor. So today, more than ever, its important to train your sales team to cool down and watch as the prospects get nurtured with the content produced by marketing.
Inbound marketing has taught us to customize our content to meet the customers needs throughout the journey, or buying cycle. If you find that a prospect averages 6-8 'touches' before they reach out to a sales rep for more info, then it becomes important for marketers to create those 6-8 pieces of content to keep them on the their site.
If you're like any other marketer, you're already swamped with projects, so the idea of creating a library of content that fits every stage of the buying cycle seems daunting. A solution for this ginormous task is to put your effort into creating substantial types of content, then breaking the result down into snackable sized content.
Take a webinar. Virtual events take a lot of work to create a professional piece of content. Beyond a fully managed team to facilitate the seamless delivery, you need a thought leader to deliver content that is both interesting, and useful to your prospective audience. Your webinar cannot be a sales pitch, because you will lose your audience before they hit the registration page. Stress to all those involved in the project that this is about educating and enlightening the attendee. After all, everyone loves to learn, and watching a webinar makes it easy.
How to use webinars to increase your ROI
After your webinar is complete, repurpose the recording by creating a landing page to make the event accessible for OnDemand viewing. But don't stop there. By repurposing the content from your webinar, you are reducing the work of creating new content.
Breaking down the webinar:
From a basic 1 hourwebinar, you can create:
4 blogs.

Each discussing the major takeaways from your event.
2 infographics.

Publish the results of polls, surveys, or evaluation questions used during the webinar.

4-6 videos.

Crop the webinar into 'snackable' sound bites to upload on social media sites.

While these video clips might not influence the prospect to buy your product or service, they can absolutely create awareness of the other content that you have.
2 worksheets.

Each person wants to determine how your product or service can help them.

Create worksheets demonstrating how your company can ultimately reduce the ROI of their own business.
1 fact sheet/citation article. Share your stats and where you found them in an article.

Don't forget to link back to the OnDemand webinar so they can learn more.

1 Slide deck.

Share your presentation slide deck and the presenters notes
10+ Graphic captures of each slide.
While the idea of taking on a colossal project, such as a webinar, may be unwelcoming to your marketing department, consider the immense ROI when you are finished. A webinar fits nicely into the awareness stage of the marketing funnel, bringing your prospect through the buying phase. Can you think of more ways to increase your ROI with webinars? Share your comments below, or tweet us @beaconlive