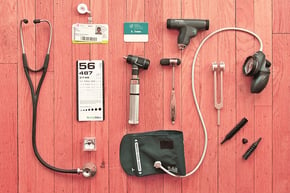 The healthcare industry has led us to believe that insurance companies do all the "work" when it comes to finding physicians new patients for their practice. We envision insurance companies reaching out to people and pairing them with whichever doctor in their area provides the service they seek.
However, the reality is much different; doctors, hospitals, and clinics actually need help marketing their services to patients in order to set themselves apart from the rest and become their patient's favored practice. Hospitals and physicians, like any other business, need "repeat clients." Below are some medical marketing tips to help you start attracting new patients while keeping recurrent ones satisfied.

Have you added your practice to Google Places? If not, that's the first place to start. When you register your practice under Google Places you're making it easier for people to find you. It works by Google sending you a verification code via mail and then you logging into your Google+ account to confirm that you received it. It's their way of assuring that your business is a real physical location their audience can safely find. After you confirm, your practice's address information should be among the list of other practices in your area when patients search for medical care in your city/town. Eventually, you'll want your practice to appear at the top of that list the key is to complete your Google Places profile 100% by adding all the keywords and information a patient would type into Google to find you.
For many patients, finding a qualified and experienced primary care provider can be challenging and disappointing -- by the time you find what you're looking for you may have to wait months before being able to meet your doctor for the first time. However, the only reason why it seems so difficult to find competent doctors in your area is because not many of them encourage their patients to provide feedback on their quality of treatment. One way physicians can tackle this issue is by offering their patients a 10% discount on their co-pay in exchange of an electronic review on your Google+ account or Yelp.com. Positive online reviews are a very effective method for creating trust and "brand awareness" around your practice and staff.
Another effective medical marketing approach physicians tend to forget about is storytelling: your hospital or practice most likely has a mission statement and history that not many know about. Use online content such as a blog, newsletter or healthcare webinars to highlight your practice's story. Start with your staff, they are "by far the most important asset to your facility and an effective source of telling your facility's story with a human face" (Referral MD). Another way of storytelling can include creating a space on your website where you, "profile doctors, nurses, physician assistants and other caregivers on your facility's blog, newsletter, website and elsewhere to help paint a picture of who operates the organization." Putting a face to your organization will help people establish trust before they even meet you.
In the healthcare industry, utilizing modern forms of technology – such as blogs, online resources, and webinars – can help spread information about your practice's services beyond your local community --which is important because unless you're the only practice in your area and your patients are constantly sick, there's usually not enough demand to justify an increased budget.
Remember, just because people will always need doctors and medical care doesn't necessarily mean they're always going to come to you.
---