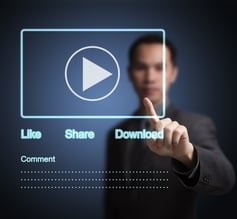 One question that we're regularly approached with by healthcare professionals seeking to advance their marketing strategy is: 'Is the use of video marketing in my industry necessary?' -- The short answer? Absolutely.

In the healthcare industry, utilizing modern forms of technology – such as video – can help streamline processes and communication, producing immediate results. We've observed and tested these observations over the years, discovering what the statistics show below:

Video Marketing Statistics
In order to attract the 87% of adults using an online search engine to find health-related information, video has to be the leading strategy behind your marketing campaign. The reason why this is important is because not only is it clear by now that people respond and engage better with video content; but, its become increasingly more evident that Google also favors content with video 53x more than content with only text

—

ranking sites with video much higher in its search results. (TechSN.com)
Another study by

DigitalSherpa

also found that 80% of online visitors will watch a video, while only 20% will completely read a piece of written content. If getting your audience engaged and fully immersed in your health-related information is important to you, then video should be, too. As the statistic shows, your audience is more likely to consume your content to its full capacity

when there's video involved.
Email marketing on average provides the highest ROI. However, we're all aware of how difficult it can be to get our target audience to open and engage with our email marketing when they're receiving a hundred more email messages from several other brands. However, statistics show that you can

increase your email response rates by 25%

when you add the word "video" to your subject line and email content.
Over half of professionals in the industry value video marketing as a must-have tool: "

51.9% of marketing professionals consider video to be one of the content types with the best ROI" (eMarketer). This stat supports the observation that not only is video marketing necessary to attract and engage audience members, but it is also one of the most successful types of content across the board—meaning its ability to provide and prove results has been established and tested,

making video a crucial method to adopt.
74% of all internet traffic in 2017 will be video (Brainshark). With video set to dominate the content sphere, it has become more apparent than ever that organizations and brands that do not implement video into their marketing strategy will become fully irrelevant in the near future. And it's safe to say, that's completely the opposite of what you want to do.
Don't let these video marketing statistics get you down; getting started with video is not as difficult as it once was. Now, with the rise of webinars, video blogs and ondemand videos staying current with marketing trends has become more realistic than ever.
Learn more about putting ondemand videos into your marketing mix to win the contest for attention.