Move Your Shareholder Meetings Online
Virtual meetings have become an essential part of modern business operations. Whether your team wants to connect with customers or shareholders, every organization needs to develop a strategy to reach its business goals and engage with corporate officers.
Shareholder's meetings, also known as AGM, are annual meetings held between shareholders and the board of directors of a company or organization. Throughout this meeting, participants review strategies, review plans, and outline goals for the coming year.
In the past, companies would typically schedule in-person shareholder meetings. Still, as organizations shift to a more digital strategy, many companies rely on virtual AGM solutions to engage with shareholders worldwide.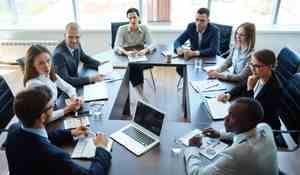 In-Person vs. Hybrid vs. Virtual Shareholder Meetings
In the past, organizations relied on in-person meetings to host their shareholder meetings. However, many companies are moving towards hybrid meetings and virtual meetings to conduct annual shareholder meetings.
Companies that have implemented virtual shareholder meetings have seen increased participation since this type of meeting allows individuals who might not otherwise have been able to attend the meeting in person.
However, these same companies report that some shareholder meetings have less effective participation in the online-only format.
Organizers should anticipate participants will have a different experience through the virtual shareholder meeting than a traditional in-person meeting.
While it's relatively easy to engage shareholders during in-person meetings, it can be challenging to achieve the same level of interaction with virtual meetings. Let's take a look at three ways you can run a productive virtual shareholder meeting for your business today!
1. Make Sure Your Shareholder Meeting Is Compliant
Shareholders and the board of directors have busy schedules, so you need to ensure that virtual or hybrid meetings are compliant in your jurisdiction. Along with checking the jurisdiction, you should also review organizational bylaws and articles of incorporation to check if amendments are needed to allow virtual shareholder meetings to take place.
One of the first places to begin this research is with the update guide provided by the SEC concerning shareholder meetings during COVID-19.
Different countries need to comply with different directions, so be sure to check your organization's guidelines and the rules of your jurisdiction. Organizers also need a platform to substitute the physical place of the meeting, which will include ensuring that quorum requirements are met during each meeting.
Your organization will need to refer to your corporate governance and your corporation's bylaws to ensure that a virtual directors meeting is compliant with your organization before it is institutionalized.
2. Encourage Discussion and Questions
While most shareholders are accustomed to meeting in person, they might not know how to interact with each other through a virtual meeting. This is why organizers should build time into the meeting schedule for shareholders to field questions in real-time during the general meeting.
It's also a good idea to create a system to facilitate questions between in-person attendees and virtual attendees if your organization implements a hybrid meeting system. In these situations, many in-person attendees might speak up more than virtual attendees, so organizers need to manage questions based on importance and appropriateness compared to prioritizing in-person questions.
In addition, it's essential to provide shareholders with a way to communicate with each other in real-time throughout the meeting. One example of this is to use a platform that offers peer-to-peer chat and messaging.
3. Choose The Right Platform For Virtual Shareholder Meetings
If your organization relies on a virtual platform to facilitate your shareholder meetings, you need to use a platform that offers the right features to streamline the meeting. Here are a few features to consider as you think about implementing virtual meetings:
Identity Verification: Your shareholder meetings cover sensitive information, so you need a way to verify the identity of participants to ensure that no unauthorized participants join the call.

Facilitate Interaction Between Participants: Shareholders need to ask each other questions and discuss points in private when needed throughout the meeting. Organizers should look for a platform that offers tools that allow participants to talk in in-person, technology-based, and even phone-based discussions.

Record Meetings: Many shareholders want to review meeting discussions once the virtual meeting concludes. This is especially important if shareholders cannot attend the AGM, so be sure to find a platform that offers meeting recordings based on your organization's rules and guidelines.

Encourage Stakeholder Participation: Organizers should find a platform that offers non-voting shareholders or employees the ability to listen to the meeting. Depending on your goals, you may not want to have non-voting shareholders or employees in attendance, and you will need a platform that allows/denies participation from those parties.

Streamline Meeting Notes: Many corporate bylaws require the annual meeting of shareholders include meeting minutes shared after each corporate meeting. Organizers should look for a platform that helps facilitate note-taking on the meeting date.
As you can see, there are many factors to consider when you look for a platform to host virtual shareholder meetings. Be sure to look for a platform that offers communication, security, and participation management based on your organization's needs.
The Move To Virtual Meetings
The world is quickly changing in light of world events, and organizations that want to keep a competitive edge need to find new and innovative ways to engage shareholders.
Many companies and organizations realize that they need to change the meeting location from a physical location to an online meeting among board members and other shareholders.
Traditional in-person meetings are on pause, and in their place, virtual shareholder meetings are quickly becoming the regular meeting arrangement.
While virtual meetings offer increased participation and several other benefits, virtual formats can lead to inefficiencies and reduced engagement among shareholders if not handled properly from the beginning of the meeting.
Since shareholder meetings are vital to the success of an organization, organizers need to establish meeting rules and procedures that facilitate a productive virtual shareholder meeting. Part of this process involves using an interactive, secure, and dynamic virtual meeting platform to support the organization's plan and overall success.
Talk with our team at BeaconLive to learn more about how our virtual meeting platform can help your organization today!
---