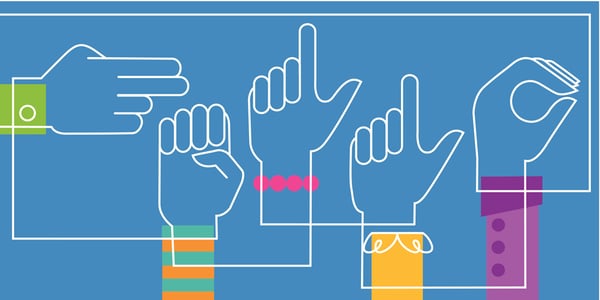 Originally published in December 2008, the WCAG (Web Content Accessibility Guidelines) was developed and put into place with the goal of providing a single shared standard for web content accessibility that meets the needs of individuals, organizations and governments across the globe. The 2.1 version was published in June 2018—and introduced additional success criteria.
Unfortunately, it's taken many companies a long time to comply with these guidelines, and limited accessibility to digital content for the hearing-impaired is still a pressing issue. However, with a growing spotlight on accessibility in a variety of industries (we've seen this is the case for government organizations, as well as companies in the healthcare and legal spaces), these conditions are really starting to change!
When it comes to product development, BeaconLive has made accessibility a priority—and we wanted to make sure our customers and their respective audiences, particularly those members who are part of the deaf and/or ESL communities, are aware of the services we provide to make attending virtual events a streamlined and pleasant experience for all. Here's a quick overview of our service offerings that contribute to this mission.


Real-time Captioning for Live Events
One way to make your organization's content more inclusive and accessible is to provide real-time captioning services for live virtual events—webinars, webcasts, podcasts, etc. Not only does this make your presentations and videos easier to consume for people with hearing disabilities, it makes the content easier to process for everyone! In fact, 98 percent of ALL students (not just ESL or deaf) have found captions useful with respect to comprehension and retention, and 80% of people who use captions don't actually have any hearing impairments at all.
Looking to offer real-time captioning for live event participants? BeaconLive will help you make this happen. Particularly if you work for an organization that produces content that must comply with the Americans with Disabilities Act (ADA), our products are designed to help you achieve these goals.


100% Accurate Closed Captioning for OnDemand Events
BeaconLive also provides closed captioning services for OnDemand playback. If you aren't really familiar with what "closed captions" actually do, they're the short lines of text that transcribe a video's or podcast's audio (words the speakers are saying, the speakers' names, sound effects, etc.) into "caption frames" on top of or underneath the video. Closed captions are also optional, in the sense that they can be enabled or disabled in a viewer's video or device settings. Here's a more in-depth look at the benefits of closed captioning in virtual events.
Yes, closed captioning is very helpful for those with hearing impairments, but multiple big-name content publishers have discovered that a large percentage of users view videos on their respective platforms without the sound turned on. While this may seem odd, there are numerous contexts where people are in busy or loud environments where they are competing with other distracting sounds. Closed captioning quite literally helps these people cut through the noise!


Post-Event Transcriptions
In addition to our captioning services, BeaconLive also provides post-event transcriptions of your content that you can include alongside the OnDemand playback. These transcriptions can be stored in your content library or content management system and published on your web pages where applicable.
Transcriptions not only provide your organization's website with a little boost when it comes to Search Engine Optimization (SEO) but they also support the needs of people with hearing disabilities. Additionally, for users who rely on screen readers, these elements can be read aloud accordingly.


Translation into Multiple Languages
Many of our customers and partners offer webinars—Continuing Education, lead generation, partner marketing, etc.—to international audiences. While these audiences may have strong English language skills, in many cases, English is not the first language of every virtual event attendee.
Our team at BeaconLive understands that language barriers already make learning challenging enough, so we offer translation services for multiple languages. In addition to transcripts of digital content that can be made available in your content libraries or resource centers, this service also includes translations for closed captioning that appear in OnDemand playback and translations of real-time captioning during live events.

If you have any questions about how BeaconLive enables organizations to meet their ADA compliance requirements or you'd like additional details about any of our services, please don't hesitate to reach out. We're happy to provide more information!
---