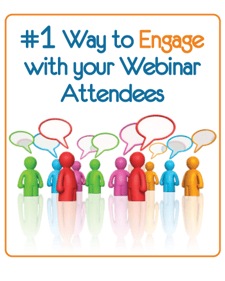 Often, our customers ask us what is the best way to engage with our webinar attendees? As virtual event mavens, we have several suggestions about how to engage your webinar audience before, during and after your webinar, but we find that the most obvious answer is, Just Ask.


"If you don't ask, you don't get"
- Mahatma Gandhi
If you want to engage with your webinar attendees, and even more importantly, if you want your attendees to engage with you and your company, you need to just ask them. There are several tactics that can get a brief rise in tweets, but if you merely mention your preferred method of engagement, and you participate in the conversations, then you can receive up to 75% more engagement.


If you don't want your attendee to split their attention during your presentation, then ask for feedback within the web room. Using live surveys/polls, you can ask questions to the audience periodically throughout the event, allowing them to answer using the chat pod in the webroom, then speak towards their responses. While this requires you and your presentation to stay agile, it provides an increase of more than 90% of active engagement.


Often, we find webinar presenters simply create a hashtag, and add it to the slide deck with the hope that your attendees will use it. This is a great way to get a tweet or two from people who are already looking for a reason to leave the webroom. But if twitter is your preferred method of engagement, we recommend that you repeatedly mention the hashtag throughout the event, and ask the audience to tweet their favorite stats or quotes. We have seen a 85% increase in live tweets when the presenter repeatedly mentions the hashtag.

Don't forget that the virtual event begins before the webinar is live. Consider asking your attendees for requests about what they would like to learn during the registration process. If they offer a relevant suggestion, consider adding it to the webinar agenda. If you do plan to discuss the topic, send an email to the attendee before the event to let them know that you will be using their suggestion.


So, if you're interested in boosting the engagement with your webinar attendees, then remember just to ask for it.
---