Professional Development - one of the most valuable assets an organization can provide for its employees:
Providing professional development for your employees can improve recruitment and retention, as well as improve the quality and productivity of the individuals who work for your organization.
If you are unable to provide in-person professional development because of Covid-19 restrictions or are just looking for new ways to expand your professional development outreach, going virtual is a great option.
Providing Live or OnDemand professional development can be easy with the right platform. Your technology provider should be able to assist you in the following steps:


1. Researching & Curating Content
Providing Professional Development, whether it's Live or OnDemand, starts with the content. You need to curate keynote speakers, connect with industry thought leaders, and poach the leaders of your organization for insight and advice that they can provide to your employees.
You can send out surveys to your employees and gauge where their interests lie. You can survey your professional network on LinkedIn to see who you might be able to connect with. You can read industry newsletters and blogs to seek out professionals who might have some novel ideas to bring to the workplace.
Once you have a list of contacts that you've reached out to and connected with, you can start to plan the production aspects of your professional development offerings.


2. Choose Between Live or OnDemand Professional Development
You can go two routes when distributing your content: Live or OnDemand. There are benefits to both options, it just depends on the type of experience you are trying to provide for your attendees.
Live Virtual Events are great for directly connecting your employees with industry thought-leaders, giving your employees opportunities to network with each other and building excitement around a shared experience.
OnDemand Professional Development has many benefits as well. Your employees can take their learning & development into their own hands - being able to access it whenever and wherever they want. Also, many employees working for your organization expect to use workplace technology, so why not provide them with an online, OnDemand program that fits their ideal of an engaging professional development experience.
3. Producing & Recording Virtual Events & Webinars
If you are looking to create a Live Virtual Event for your organization, you will want to think about the technical implementation. Your Virtual Event technology provider should be able to:
Create registration pages (link to registration blog)

Implement interactive features like chatrooms & live polling

Organize breakout sessions & breakout rooms (Link to breakout blog)

Provide networking opportunities for your employees

Assist in technical support prior to the event, day-of and post-event
Don't forget to ask for feedback on your employees' satisfaction of the event. Was it engaging? Did they enjoy the material? Did they feel as though it was a valuable use of their time?
Organizing a Virtual Event can definitely be complicated and time-consuming, but with the right tech platform, production and execution can be made simple and seamless.
If you choose to produce an OnDemand Professional Development experience, this next step requires you to record your keynote speakers and educators and edit the content so that it is ready for online viewing. Your technology provider should help you record the content and host it in an online Knowledge Base.
You can always have your technology provider record your Live events and edit them for later OnDemand viewing.
4. Creating a Knowledge Base with your Recorded Content
Whether you recorded your live event or produced content specifically for OnDemand viewing, it is now time to host this content in your proprietary Knowledge Base. A Knowledge Base is an online platform, either free standing or as an extension of your website, that hosts all of your media & content.
You can organize your content in a sequential, hierarchical order, so that your participants can build up to certificates of completion for different courses or learning tracks. Your content can consist of video, audio, images, podcasts, webinars, PDFs, slide-decks, brand tool-kits etc.
Knowledge Bases also appeal to trends in MicroLearning. MicroLearning refers to educational content that learners receive in bite-sized chunks. This technique is becoming increasingly popular across many types of adult learning tracks, all for reasons like:
Shrinking attention spans

Learning in short bursts is more realistic for absorbing information

"Modules" of information offer a better fit for our cognitive architecture

More engagement with materials

Highly focused learning objectives
Make sure to add quizzes, or short assessments at the end of each module to make sure that your viewers are paying attention and retaining the information. Interactive quizzes are proven to increase active listening and improve knowledge retention.
5. Track, Certify & Accredit Users
The technology platform that you partner with should host a complete Learning Management Solution that can track users as they progress through learning modules and pieces of content.
If users complete a certain course, awarding them with a tangible certificate is a great way to incentivize goal-oriented learners - plus it provides your employees with something to both be proud of and publicize on their social media platforms.
Any sort of accreditation or recognition of achievement will do great to incentivize, gamify and engage your employees towards utilizing this OnDemand professional development content.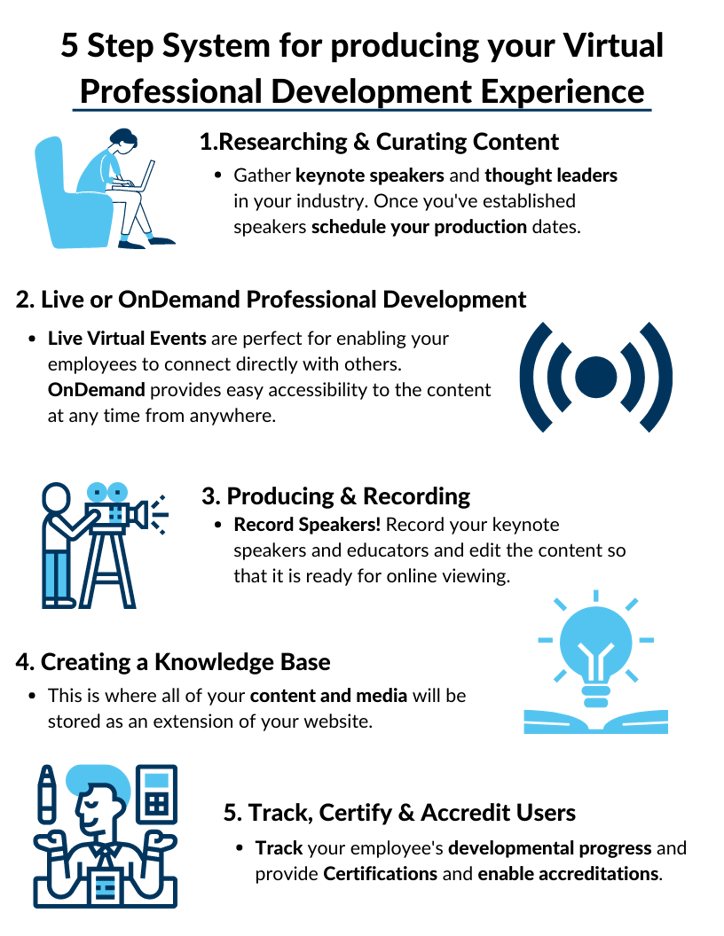 We hope you found this information useful. If you are looking for additional resources, check out our Complete Guide to Continuing Education. If you are looking for a technology provider who assists in end-to-end production, execution and management of virtual professional development, contact us at BeaconLive.
---