The benefits of using webinars are endless. They allow you to reach out to thousands of people at one time, spread useful information, and help propel your company into an industry leader role. Well, if they are successful they will. But how do you do that? How do you avoid flopping and create one that is stimulating with a large audience? If you follow our guidelines to delivering a successful legal marketing webinar, you can!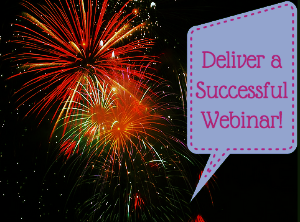 Create an Agenda
Create an agenda prior. This plan will set up how you present your information and keep you on track. Remember to formulate your agenda towards your audience because time is limited, but an engaging agenda will keep your viewers in their seats for the entire event rather than just the first few minutes. When building this plan, remember that the optimal length is 50 minutes.
Know Your Audience
Remember who you are talking to. If you are delivering a legal marketing webinar, then you probably have mostly legal marketers in the audience. This means you can skip a lot of elementary information about the buyer's journey and delve deeper into more detailed information. Focus on the idea of continued education. Don't give attendees a review of what they know, but instead give them insight to what is changing in legal marketing and keep them up to date.
Recruit Speakers
According to a study done by the 1080 Group, the second highest reason an attendee leaves early is because the speaker is boring. Find engaging people who are experts in legal marketing. Information that is delivered from someone with a long list of credentials will draw a larger audience than someone who is new to legal marketing. Look for speakers who can deliver strong, in-depth information and analysis and can back it up with experience.
Employ Professionals
Let the professionals handle the heavy lifting. Rather than trying to set up your own and stumbling for days and days over various aspects of presenting, let the professionals handle it. We found that 95% of professionals wanted a webinar vendor with their own technology. At BeaconLive, you can work side-by-side with our team to create the virtual event of your dreams through are fully customizable platform.
Customize
Don't settle for non-customizable events. They look amateur and are sure to deter potential attendees. You could have one of the top legal marketers in the world speaking, but if it looks poorly put together and your registration page is confusing and doesn't match your webpage, then nobody will want to sign up. Creating a fully customizable virtual event that is easy to use and pleasing to the eye is sure to draw a crowd in.
Interact
Think about the most exciting classes you have ever taken. Were they the ones where a professor babbled on about some useless jargon that you were forced to memorize for the upcoming exam? Or were your most exciting classes the ones that had an open discussion and you interacted with your professor and your classmates? I know mine were the discussion-based classes and these are no different. A report done by Adobe shows that over 50% of the audience participates in polls and Q&A sections. Create interaction with your viewers by opening up chats and having a Q&A section.
Record
Not only does recording allow you to review what went right and what went wrong, but it also draws in more traffic. We found that there is a 26% increase in views when it is recorded versus live only. By using BeaconLive OnDemand, you allow attendees who missed the live viewing to watch the whole video at another time. Also, OnDemand allows for people who may have missed information to go back and review the event. It can now live on.
Hosting a successful virtual event will be a huge step in creating traffic to your webpage. Over 62% of marketers are using webinars according to the Content Marketing Institute (CMI). Take advantage of them as digital marketing becomes even more important!
Now that you know how to host a successful event download our free eBook on 7 Steps to Attracting a Larger Audience!