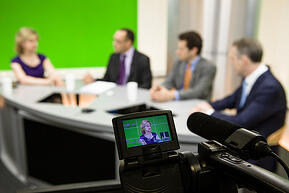 If you're already delivering presentations that people want to attend, why not stream them online to expand your reach? For some, finding the right technology to do so is not the hard part; but rather convincing the speaker or program director why presenting online needs to be done. If you're currently struggling with this obstacle, here are some arguing points that may help you convince your speaker and your team to reconsider taking your in-person events online.
Broadened your audience: a presentation that is only available to a local audience limits your network's potential.

You need to provide several options for people to find you and learn from you.

Online presentations average 54 live attendees at a time (e3Marketing), allowing you to reach more people s

imultaneously

.
Brand awareness: a larger audience means more brand exposure for your company. I'm sure your marketing department will back you up on this one.
It's easy: your speaker doesn't have to be a webinar or webcast expert, or even have had any previous experience delivering an event online at all. It's as simple as having a video technician attend the live event to record and s

imultaneously

stream the presentation to your virtual audience. When you use BeaconLive to broadcast a live event, your participants will have access to your presenter (via the BeaconLiveWEB platform), which will allow them to ask questions and participate in quizzes or surveys during the presentation (with the help from one of our moderators).
Repurpose your presentation: when you capture your presentation on video you can make the recording available online for the 55% of event registrants who would rather watch the recorded video than attend the live event (Adobe). Extending the life of your webcast makes the effort all the more worthwhile.
Its cost-effective. Not everyone can afford to fly out to your in-person event or take the day off to be present. Offering an online alternative shows you are considerate of everyone's limitations.

Basically, if you're not online you're limiting your event's potential. We turn to the internet for everything, specially education, so why not stream online and be where your audience is present?