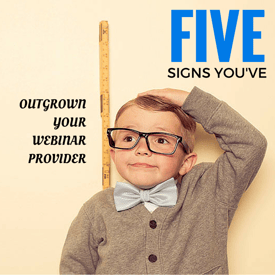 Self-service DIY platforms like GoToMeeting and Webex are great alternatives for smaller, less demanding events that don't require the same level of preparation and qualifications that a continuing education webinar may need. Many people decide to start at that level because it seems easy and affordable until they realize that they can only go so far with either of those options.
Outgrowing your webinar provider, whether its one of the companies mentioned above or another, is a very common theme we see happening across the board. Companies with tight budgets and understaffed teams test the waters with providers that seem relatively easy and approachable because they don't have the time or support to see through the (much more) involved process full service providers have. It may seem like a quick easy fix in the short term; to get up and running your own virtual event within minutes or hours. However, you are only hurting your team in the long term because you are limiting what can be truly accomplished when a team of experts handle the details you don't have time to.
Here's 5 Signs You've Outgrown Your Webinar Provider and Need More Hands-on Support:
It's no longer just you running the show; you've hired a professional webinar speaker with an impressive background and years of experience. They should have a proper introduction and a moderator for Q&A support.

You need live support --someone to have your back through every step of the way that can immediately take over and keep your audience engaged if you become disconnected from the webroom.

You need customization beyond your logo in the webroom; people should not have to doubt who is delivering the event they are attending and how the content is associated with the company.

You need your event to meet all of the requirements set by your continuing education jurisdiction.

You need a provider that can handle registrations, e-commerce, reporting, and much more.
Although there are many more signs that can lead you to believe that you've outgrown your webinar provider, these are the top 5 signs that should be the most evident at first. The best way to avoid finding out too late that you need more support than what the average self-service platform can provide is by identifying all the requirements your event must have and discussing the software capabilities with an account manager. Often, a software or service provider can accommodate a lot more requests than what is posted on their website -that's why its in your best interest to establish a relationship with the company and have your needs met before you're locked into a contract.
---