Accounting is an ever-changing field that requires continuous learning and development of skills. Therefore, Continuing Professional Education (CPE) is an essential aspect of the accounting profession. As a provider of CPE webinars, it's crucial to ensure that your webinars meet the standards set by the National Association of State Boards of Accountancy (NASBA).
In this blog post, we'll discuss how you can deliver NASBA-compliant webinars to accounting professionals.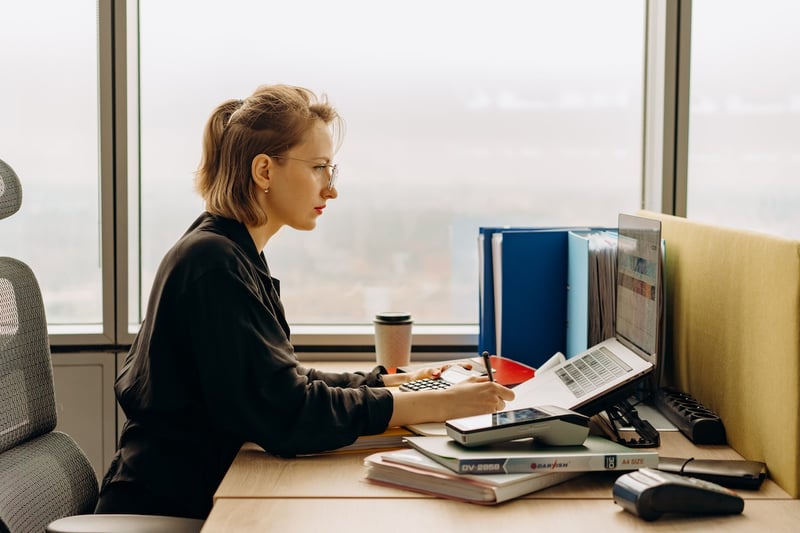 Photo by Mikhail Nilov
Understand NASBA Compliance Requirements
Before beginning to plan any CPE webinar, it's essential to have a comprehensive understanding of the NASBA compliance requirements. The rules may vary based on the state, so it's crucial to check to ensure that your webinar meets the requirements of each state board.
It is also important to ensure that the content is up-to-date and relevant. The instructor should be knowledgeable in the subject matter and have a solid understanding of the accounting field. The presentation should also include examples, case studies, or activities to help attendees gain a better understanding of the material.
Note that all CPE webinars must be monitored by an independent reviewer who meets NASBA's criteria for quality assurance. This reviewer will evaluate your webinar for accuracy and relevance and make sure that it meets all NASBA standards.
Finally, you must submit all materials used in your webinar to the state board where they will be presented. This includes a summary or outline of topics discussed and copies of slides, as well as any other materials used during delivery. These documents are reviewed by a qualified CPE sponsor who verifies that they comply with NASBA standards.
Create High-Quality Content
The content presented in your CPE webinar is crucial in providing valuable information that accounting professionals can use to improve their knowledge and skills. NASBA requires the content to be engaging, interactive, and relevant. You should create learning objectives that align with the attendees' knowledge level and ensure that the webinar's style and tone are polished and professional.
Create sessions that are interesting, engaging, and informative. Topics should be relevant and timely, with a focus on providing practical knowledge that can be applied immediately in the accounting field. Include activities or examples to keep the audience engaged and provide opportunities for attendees to interact with the instructor and each other.
Include an Evaluation
The evaluation is a crucial aspect of CPE webinars, as it provides feedback on the effectiveness of the content and the overall webinar experience. NASBA requires that the evaluation is comprehensive and includes questions related to the learning objectives, the content's usefulness, and the overall quality of the webinar.
Include a brief survey at the end where attendees can rate their experience as well as provide feedback on any areas they feel need improvement. Analyze the evaluation results and incorporate feedback to improve future webinars.
Maintain Accurate Records
NASBA requires that providers keep records of their webinars for up to five years, including the details of the attendees, the agenda, the learning objectives, and the evaluation results. Keeping accurate records ensures that you can provide documentation when audited by the state board. It's essential to store records in a secure and easily accessible location.
Webinar providers must also comply with other NASBA regulations such as maintaining independence and avoiding conflicts of interest. To ensure independence during delivery, instructors should not promote or advertise specific products or companies during their presentations. Additionally, webinars must remain free from bias and reflect current industry standards and best practices.
Partner with an Accredited CPE Provider
Partnering with an accredited CPE provider can help you meet the NASBA compliance requirements and ensure high-quality webinars. Accredited providers have already met NASBA's guidelines and can provide support in all aspects of creating and delivering CPE webinars.
Accredited CPE providers can provide technical assistance in creating effective visual aids and materials to engage attendees during the webinar. They will also review all materials used in delivery and ensure that they are compliant with NASBA regulations. Furthermore, they can help maintain accurate records and provide assistance throughout the entire webinar process - from creation to delivery.
A good platform should have features such as live streaming capabilities, interactive polls, questionnaires, discussion boards, collaboration tools, and secure data storage for recording attendance. Additionally, it should offer scalability so that the webinar can accommodate any number of attendees without compromising its quality or performance.
Conclusion
Delivering NASBA-compliant webinars to accounting professionals is not only essential but a requirement for CPE providers. Understanding NASBA's guidelines, creating high-quality content, including evaluations, maintaining accurate records, and partnering with an accredited provider can help you deliver effective and valuable webinars. By meeting compliance requirements, you can provide accounting professionals with the necessary tools and skills to succeed.
At BeaconLive, we provide an all-in-one platform for delivering NASBA-compliant webinars. Contact us today to learn more about our CPE solutions and how we can help you meet compliance requirements.
---