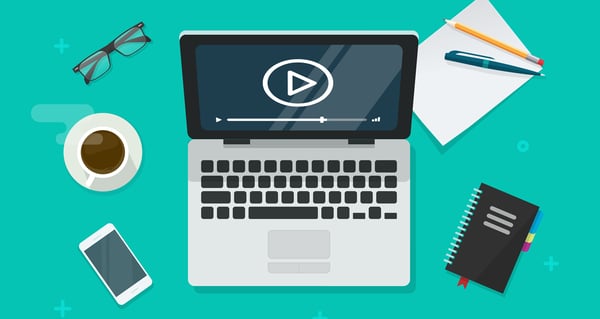 By 2025, millennials (born 1978-1994) will comprise nearly 75 percent of the world's workforce. And training them demands a way to overcome the challenges posed by temperamental attention spans and growing expectations for visual representation of information. In light of this, corporations and other businesses must find a solution to cater to the evolving workforce, and video presents a viable option.
Of course it's no secret that video content has already become a widely accepted form of communication, sales outreach and knowledge sharing in all types of organizations. According to research conducted by Kaltura, employees across varying company sizes watch on average seven hours of work-related videos per month. And in many geographically dispersed organizations—where video has been expertly deployed—that number rises into the double digits.
A more recent study found that 98% of survey respondents recognize the value of using video for training employees better and faster, with 75% finding this medium very valuable for this use case. With growing popularity, high visual impact, and far greater engagement in comparison to what text-based content generates, video has certainly proven to be one of the most effective tools for corporate training.
However, like any other medium, video-based training content needs to be executed properly to ensure your employees get the most out of their eLearning experience. Here are a few best practices your organization should follow in order to create more effective corporate training videos.

1. Be Goal Centric
Before starting to create the content for your next corporate training video series, it's important to have a firm grasp on the answers to the following questions:
What is the goal you're trying to achieve with the training?

And why are you trying to achieve that goal?
In comparison to other types of content, video can be more difficult, time consuming and expensive to produce. Tangibly writing down what you're trying to accomplish can help you and your team stay on task and eliminate inefficiencies during the video creation, editing and delivery processes. Moreover, if you don't have a documented answer to these strategic questions, the resulting video is going to lack a clear focus. Consequently your employees, who end up shorted a practical understanding of why they're even participating in the first place, will be less inclined to engage and have a low likelihood of retaining the information presented.
On the other hand, if your HR office or departmental team has firmly established the goal of your training video and is able to communicate it in a concise manner, it's much easier to convey a sense of purpose to your employees. When they know why they are being trained, it's easier to understand the long-term benefit. A Harvard Business Study found that employees who have goals are 10 times more successful than those without. And those who write their goals down are 3 times more successful than those with the unwritten goals. Therefore, it truly pays off to be goal-centric.

2. Be Engaging
Once you've identified your corporate training video's key objective(s), it's a critical next step to ensure your employees are getting the most out of the content – and that they actually find the information interesting. Two out of three employees say that training opportunities are an important factor in their decision to stay with their current company or position. However, about 33% say their training is on the mundane side. With this in mind, business unit teams need to make their onboarding and professional development videos engaging so their employees actually retain and apply what they've learned, as opposed to simply zoning out and going through the motions.
Building on our first tip, one way of doing this is connecting the material to their job function, and in turn, connecting their job function to the overall goals (and success) of the company. But what's really trending in the corporate training and professional development arenas these days is opting to create small, bite-sized videos that promote specific and to-the-point messaging. Rather than trying to master an entire course worth of subject matter in a few fixed sessions, this technique provides employees the opportunity to 'micro learn' in chunks and to be quizzed more frequently on a smaller amount of material – which supports retention. Not to mention, shorter videos also help employees fit these sessions into their schedules, which better enables them to learn at their own speed within the given timeframe.
Another tactic for fostering greater engagement is to leverage scenario-based eLearning. In your training video, your organization can showcase a particular skill and then ask employees in training to replicate the skill through a test, or better yet, in the field. In a microlearning environment, participants in the program can directly apply their learnings to a work-based situation soon after absorbing the content (and before moving onto another training module). This renders the learning process far more realistic and your employees much more likely to realize positive outcomes.
Finally, incorporating multiple content formats and styles of corporate training videos (i.e. explainer videos, talking head interviews, interactive videos, culture videos) into your program can also help capture your employees' attention and build excitement. Different people perceive information in different ways. By catering to various learning styles, you're able to connect with a wider audience. Plus, with repetition being a necessary evil for learning, things can get monotonous; mixing it up provides your business with different avenues for presenting the same information.
3. Measure the Impact
So you've finished making your video. Next up, showcase it to your employees and you're done, right?
Well, not yet.
Your employees should be presented with well-made, easy-to-digest videos, but that's not where the engine stops. An important aspect of creating corporate training videos is measuring their success. And it's not just about a simple passing grade and they're good to go. One great way of doing evaluating impact is to obtain feedback from your audience. Without personal feedback, it will be difficult to ascertain whether or not your training was effective.
To do this, you can set up various measurement processes – focus groups, surveys, or even direct one-on-one feedback sessions. Specifically regarding surveys, keep them brief and try asking both quantitative questions (for example, rating a session from 1 to 10) in tandem with qualitative questions that ask them to elaborate on what training components stood out and why.
It's also a good idea to benchmark performance metrics before the training and revisit them afterwards, examining results for signs of improvement. For instance:
Did your employees get better at a particular task after completing training?

Has departmental or employee productivity increased?

Is the employee receiving positive comments from customers or colleagues?
Comparing employee data before and after the training can prove to be an invaluable metric for many corporate training video series. There's no doubt your company leadership wants training to be as meaningful as possible, and real feedback enables you to create better videos in the future.

Video in corporate training is here to stay. Using some of the mentioned best practices above, you can create high quality in-house training content that resonates with your audience and helps your team achieve the results you're looking for.
Integrate corporate training videos into webinars and virtual events for an interactive way to engage your audience.
---