BeaconLive, a learning management systems solution, was acclaimed by a popular B2B review platform.
One of the most credible software review platforms today, FinancesOnline, has given BeaconLive the Rising Star Award. It is a recognition presented to learning management systems that have achieved a growing number of satisfied users and a solid customer base over time.
Aside from the growing social media mentions, FinancesOnline acknowledged BeaconLive's robust performance and unique features as a learning management systems solution.
FinancesOnline posted an exhaustive review and applauded the features of BeaconLive. Based on the review, BeaconLive is a commendable browser-based platform for virtual and hybrid events, exhibits, continuing education, and more.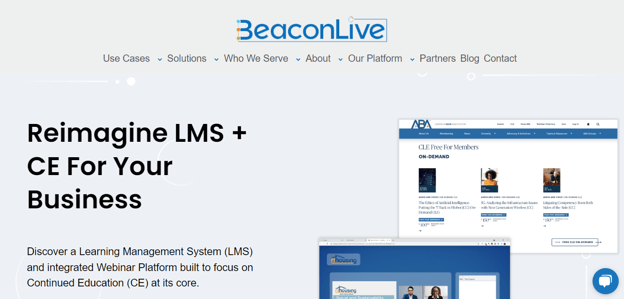 FinancesOnline recommends the efficiency of BeaconLive. It is a user-friendly CE learning system that you can customize to your unique training course requirements to issue certificates and maintain accreditations.
BeaconLive poses different notable features that make up a productive LMS, like breakout sessions, live polling, certificate issuance, real-time audience tracking, on-demand content, screen share, chatrooms, and user tracking and analytics.
One of the benefits of using BeaconLive is the interactive virtual and hybrid events. You can create captivating conferences, webinars, and virtual and hybrid events using the BeaconLive interface. All the interactive features you want to keep your audience engaged are available on this platform.
It is simple to transform live events into hybrid experiences. Thanks to the internal team of event producers, moderators, and technical support personnel, your events will operate smoothly.
One more benefit of this software is the streamlined continuing education system. BeaconLive's fully customizable CE LMS solution for continuing education offers the capacity to arrange and facilitate certificate distribution for all your programs. It enables you to automatically distribute CE and certificates per the rules set forth by your accrediting authority. For CME and CLE, BeaconLive offers extensive accreditation support services, such as certificate delivery, storage, reporting, application submission, approval tracking, and implementation of particular jurisdictions.
Lastly, BeaconLive is accessible and easy to use. Viewers worldwide can access your events and content on your platforms without downloading plug-ins or additional programs. It also provides CART language and translation to live or on-demand broadcasts to make your content accessible to all viewers.
The need for more efficient and accessible learning management systems has become increasingly important in the growing education industry. That said, searching for an appropriate software solution is best.
Since the pandemic, the use of technology for education has been progressing. According to statistics, 48% of students use desktop computers, 42% use smartphones, 33% use interactive whiteboards, and 20% use tablet devices.
Today, extensive features are what software review platforms look for in their list of top learning management system solutions. BeaconLive would like to thank FinancesOnline for the opportunity of recognizing our brand. It inspires us to keep doing better.
We would also like to thank our solid customer base for their unwavering support. Our team here at BeaconLive aims to keep providing quality services and products. BeaconLive looks forward to several more years of working with you.
---