Just as popular comedians come together to "roast" a celebrity of the hour, with playful disses and frank call-outs, we're holding a roast right here, right now, of virtual events platforms. In exploring this approach, you'll come to realize what important qualities you should look for – and which to avoid – in a webinar provider.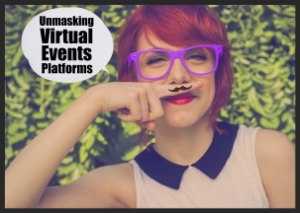 Are DIY virtual events supposed to be easy? Not even a rocket scientist could figure out the overly complicated features.
Some DIY platforms are confusing and lack the sleek simplicity of a full service virtual events platform. A good webinar provider offers features that are easy to adapt to and ensures that your event deliveries are streamlined with the assistance of helpful, knowledgeable staff.
Do you want a provider that leaves icons, love notes, and flowers all over your computer? That's a bit overkill – and the flowers are already starting to wilt.
Sometimes, webinar providers' efforts come across as annoying and invasive rather than pleasant. Successful types of follow-ups and extra touches include providing a recording of the event and touching base with attendees after the webinar, offering them a chance to provide feedback and delivering event materials so that they don't forget how useful they found your content.
Starting your event at 10am is different than beginning the process of downloading the software at 10am.
A quality platform ensures that you deliver a flawless and professional event, every time, and this requires a lot of work before the audience joins you in the web room. A team of event producers, account managers, and moderators can help you plan and develop a successful virtual event and avoid embarrassing mishaps.
An all-inclusive package – great, right? Actually, you have to pay to do every.little.thing.
Oftentimes, webinar providers offer what's labeled as an "all-inclusive package," but it turns out to be merely a marketing ploy. "All-inclusive" doesn't mean multiple additional payments in order to get your event ready for delivery. You should be able to trust your provider and ensure that you're actually receiving the value you signed up for. A good full service webinar platform provides you with all you need in one place, and the benefits accurately reflect the offerings.
Where's the customization you rave about? Seriously, where?
Touting "customization" is common among platforms, but not all of them actually follow through with this promise. An experienced webinar provider matches your company's branding with each element of your participant's event experience – from the initial branding in the registration page to the confirmation and reminder emails, and even within the web room. This impresses registrants and makes it clear that this is your organization's event.
The presenter's signal keeps dropping, which means they clearly weren't prepared for the presentation.
A good webinar provider doesn't expect presenters to be experts in webinar delivery; that's their job. Event moderators facilitate every detail behind the live event – from the introduction to live troubleshooting and assisting with the Q&A. The moderator is by the presenter's side throughout the live event and can assist them with whatever they need help with.
Who wouldn't want to engage with the people giving their time to watch you deliver your content? Definitely not an excellent platform. Engagement is crucial.
I can't even log in? Really?
Experienced webinar providers think it's important to have a dedicated support system behind the technology. After all, your company's reputation lies in the professionalism you represent during this event. Your reputation is important, so an effective platform will pair you with a professional team that represents you well – which should definitely include an easy log-in process.
We hope you've learned a lot about virtual events platforms in this roast-style discussion – the good, the bad, and the ugly. Remember that there's a way to spin nearly anything, but make sure that the truth lies in the guaranteed success of your events.
Let's make sure that your next webinar doesn't end up as a roast! Watch our OnDemand webinar of "The Good, The Bad, The Ugly", and learn how to avoid the ugliness of a big fail when planning your next webinar!