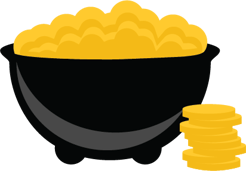 There's no denying that the words "online seminar" have a stuffy, uninteresting undertone to them; there are volumes of mediocre presentations out there to prove people why they should forgo the opportunity to participate in one. However, it doesn't have to be that way; modern online seminars have developed to be much more dynamic and engaging than in years past. Below are some valuable recommendations to help you embrace the luck o' the Irish today!
Start by making sure your seminar's theme is interesting. Even if the topic itself is academic and dry, you can always add a new unexpected angle by tying it back to a movie or popular internet reference – turning something seemingly boring into an interesting learning experience. People love pop culture references!

Next, make sure you're engaging your attendees all the way through the online seminar. You can do so by getting your attendee's involved with a live poll or taking questions through out the event. It will encourage them to interact with you, diminishing the idea that online seminars are a chore.

Keep the language light and accessible. Sure, there is some terminology and jargon that comes with every industry, but try to use it as little as possible and stick to a more casual approach. If your seminar is too technical or doesn't clearly define the problem and the solution, you will lose your audience's attention.

Lastly, there are few things less engaging than a presenter reading what's written on a PowerPoint presentation verbatim. Slim down the text on your slides to a few highly relevant bullet points and then elaborate on these points with animated explanations, examples, and relevant anecdotes.
By following these recommendations, you'll increase viewer engagement, enhance learning, and keep attendees stimulated throughout the presentation. The way in which your content is presented is crucial and ultimately determines how much of the content your attendees actually absorb and remember.