Webinar & Virtual Event Planning Timeline and Checklist | BeaconLive
Use This Webinar Checklist To Plan Your Best Virtual Event Yet
Hosting an online event is not an easy job. Whether you've hosted several virtual events or are planning your very first webinar, you need a solid plan to ensure nothing falls through the cracks. Not only do you need to plan the event itself, but you need a strong marketing strategy as well as a solid follow-up plan to guarantee success for your event. To give yourself the best chance at hosting a successful webinar or virtual event, you'll need to start early and be methodical with your choices. Here is a comprehensive webinar and virtual event planning timeline with a built-in checklist to ensure you don't miss any crucial steps when planning your online conference.
Download our top resources for virtual event and hybrid event planners today!
Top resources for hybrid events and virtual event planners. Produce better events in half the time, every time, and get expert insight along the way.
8 Weeks Before Your Event
Select Your Webinar Topic
Ultimately, it's the reason why attendees show up. Without a good topic, your promotional efforts may fail to capture the attention of potential attendees. Choose a webinar topic that will excite your target audience.
Questions to consider:
Are your target audience members interested in the subject?

Can this topic be delivered in a virtual space?

Has this topic been offered before?

If so, how will yours be different?
Photo by Annie Spratt
Select Your Presenter
You'll want to choose your event host as soon as possible. Your host will set the tone for how your content is delivered. Consider choosing someone familiar with your industry or even booking co-hosts who can work together to add value to your event.
Questions to consider:
Does this person have experience delivering webinars, or are they willing to learn the difference between a webinar and in-person presentation delivery?

Is this person a thought-leader in the industry?

Will you be relying on this person to help attract a larger audience?
Determine Your Goals For The Event
Goals for a lead generation event will be very different from the goals for a continuing education event, so take the time to think about what outcomes you're looking for.
The goals you choose can be about attaining educational credits for X number of attendees, branding your company or presenter's name as a thought leader, or simply training someone how to do something.
Having a clear goal for the event in mind will help you determine the theme and design of the event.
Identify Your Target Audience
Having a broad target market can be detrimental to your registration metrics because one event cannot provide for everyone. Choose a specific topic for your segmented audience and prepare a presentation directly for them in mind.
It's worth taking the time to create an audience persona that will help you predict the behavior and wants of your target audience before the conference.
Select A Vendor To Deliver Your Event
It's essential to determine what features you need to deliver your presentation and who on your team will ensure that every piece is taken care of. Here's a sample of features you'll need to consider for your virtual event:
| | |
| --- | --- |
| Essential Virtual Event Features | Why You Need Them |
| Event Controls | These features allow you to control who is unmuted, keep an eye on raised hands, and complete other tasks that help your event run smoothly. |
| HelpDesk | Whether you or your attendees are running into technical difficulties, a live HelpDesk will help get things rolling again without disrupting your event. |
| Live Webinar Hosting | If you're hosting a live event, you'll want a virtual event platform that is well-versed in handling events in real-time. |
| Webinar Recording | To make the most of your event, your platform should offer recording options. Additionally, high-quality platforms can even host and distribute your recording for no extra cost. |
| Phone Dial-In Access | If your attendees don't have a stable internet connection, offering a dial-in option gives them another way to listen to your event. |
7 Weeks Before Your Event
Select A Date And Time For Your Event
Always consider when your audience is available to attend a webinar. If you are delivering a lead generation webinar, try to pick a slower day, like Friday, and perhaps provide the event during lunchtime.
If this is a mandatory webinar to earn continuing education credits, select a time when doctors or lawyers won't be taken away from patients or clients. This will make it more convenient for them.
Also, consider the location of your audience. Depending on their time zones, the time your webinar starts may make it impossible for them to attend. We generally recommend events be hosted between 11 am and 4 pm Eastern Standard Time.
Delegate Tasks Between The Presenter, Hosts, And Webinar Team
It's essential to document every detail before you begin your conference to ensure each team member knows who is responsible for each part of the event.
You can even create a checklist with due dates to check off to coordinate with your team on what needs to be accomplished.
Things to consider:
Do you need approval from a jurisdiction or board?

Do you need to build continuing education into the event?

Will you be capturing the event for future viewings?

Where will the webinar recording be hosted for on-demand viewing?
Determine A Theme For Your Event
You have already chosen a topic for your webinar. Now, you'll want to pick a theme that will tie the whole event together. Will it be educational or entertaining? Will your host be formal or light? This will determine everything, from how you design the presentation to how you market the event.
Determine If And How You Will Want To Repurpose This Event
With a recording of your event, you can replay it at another time and have the presenter rejoin for a live Q&A session.
Another idea is placing the recording in an OnDemand environment where attendees can watch the event at their leisure. If you are delivering a CE event, be sure to ask your vendor if they can include CE testing in the OnDemand viewing.
Determine The Length Of The Program
Compile the information you want to deliver in the presentation and create an outline of your content to formulate your event. You'll need enough exciting content to engage your audience for the entire duration.
Factor in opportunities to engage with the audience using polls and surveys. Don't forget to leave room for Q&A at the end. If you are planning an extensive online event, such as a multi-day conference, factor in break time to avoid audience fatigue.
Determine How You Want Your Attendees To Register For The Event
While it's possible to build the registration with a third party, it's often easier to use your webinar provider to develop and host your registration page on your behalf.
This ensures that the attendees receive the correct confirmation and reminder emails and their login information will integrate with the webinar platform. This makes it easy to track and engage with them. It also makes it easier for you to make marketing decisions that boost registration rates.
Are you looking for a customizable and white-label platform to host your virtual and hybrid events? Well, look no further… the answer is here!
6 Weeks Before Your Event
Compile Your Lists Of Prospective Attendees
Your email marketing list is a great place to start, as it offers qualified leads for your webinar. If your event targets a segmented group, make sure you don't email the invitation to non-relevant people.
Use your CRM to determine which potential attendees will find your event the most valuable and start with them.
Create A Webinar Promotional Plan
This is the most critical step in webinar planning. Without it, you risk limiting event awareness and face low attendance numbers.
Create a content marketing calendar. Include email schedules, press release launches, social posts, and blog posts. Your plan should include sending email invitations and any other marketing tactics you use to promote your event.
Use this webinar promotional checklist to ensure you're doing enough to build excitement surrounding your virtual event.
Prepare A Marketing Promo Kit For The Sponsors, Presenters, And Hosts
In the marketing promo kit, include social media graphics, suggested posts with shortened URLs, and hashtags. Send the kit out to influencers on social media platforms like LinkedIn to improve your reach.
If possible, build a clone of your registration landing page to track where the registrants are coming from.
2 Weeks Before Your Event
Monitor And Analyze Your Promotions
This is the time to ensure your marketing strategies are working and attracting the right people. Not all promotional plans are suited for every webinar, so you need to look at how your promos perform.
Analyze your webinar registration to see where registrants are coming from and revise your marketing plan as necessary. If you notice one channel not performing well, consider shifting your efforts to one with more promise.
Photo by Malte Helmhold
Want to host better virtual & hybrid conferences?
Are you looking for an easy, affordable, and effective way to host your virtual and hybrid events? Stop wasting time and resources researching because the best option is waiting for you!
1 Week Before Your Event
Get Familiar With The Webinar Platform
Make sure your presenters are familiar with your webinar platform. Schedule a tech/dry run of the technology, upload your slide deck to make sure your visual aids look good and test different audio methods.
If you plan to deliver polls throughout your webinar, pre-populate the web room with your questions.
Prepare Your Post-Event Evaluations
Analyzing your event is as important as preparing for it. Create a list of questions for your attendees to answer and formulate a brief survey to gather their feedback.
Questions can include reviewing the presenter, asking if the attendees want to learn more about your company, or seeking input for future events. This is a great way to see what they would be interested in to get a leg up on planning your next webinar.
Write An Introduction Script For Your Presenter
Whether you are working with a live moderator or having someone from your team introduce the presenter, it's essential to gather all your facts regarding what you want the attendees to know about the event.
Review some public speaking tips for webinar presentations if you deliver the presentation to nail down your delivery. Ensure your script is tuned and tailored for optimal and effective content delivery.
Prepare Your Follow-Up Messaging
Create an email that will summarize what was presented during the webinar and consider providing the attendees with a link to view the event OnDemand. This is a great way to extend the life of your event and offer value long after the online event concludes.
On The Day of Your Event
Send A Final Email Invitation
Statistics show that most attendees will register for a webinar within 24 hours of the live production. And it's not uncommon for a busy professional to forget they registered for an online event.
By sending a final email invitation with "today" in the subject line, you'll remind attendees to log in and participate in your virtual event.
Joining The Web Room
Practice is key for avoiding a series of unfortunate issues at your online event. Have the presenters join the web room at least 15 minutes before the webinar's scheduled time.
This provides enough time to do one last sound and webcam check, review your PowerPoint, and get comfortable with the event features. If you scheduled multiple presenters, review the speaking order and ensure their materials are organized so the event runs smoothly.
Check Your Recording Status
If you plan to repurpose your event for OnDemand viewings, ensure that the event is being recorded in the proper format. Connect with your virtual event platform to confirm your event moderator will start the recording at the right time to prevent a mishap.
Live Support
If you are delivering a webinar with a full-service webinar provider, rely on the live event moderator to handle any issues that may arise with the audience and concentrate on providing the presentation.
If you deliver a webinar with a DIY webinar platform, have an additional person monitor the audience's requests. This will ensure you don't miss any issues or essential questions as you run the event.
Analyze Your Webinar Statistics
Most webinar platforms provide you with complete event reports. Some of the critical analytics to look at include:
How many registrants attended the event?

What questions were asked during the Q&A?

Were the questions answered thoroughly?

Who participated in the post-event evaluation?

Who needs to complete the post-event evaluation?
Photo by Visuals
48 Hours After Your Event
Follow Up
Your job isn't done once the event concludes. Send a follow-up email to the registrants who attended the event, as well as those who missed the event.
Include an OnDemand recording or a link to the PowerPoints used during the event. This will ensure your webinar or virtual event offers additional value to all registrants.
Answer Your Q&A In A Blog
Sometimes, if a question is asked during a Q&A session, the host or panelists don't have enough time to answer it completely. Or an attendee may have left early due to a scheduling conflict. Either way, you'll want to offer more information to ensure your audience members have their questions answered.
Write a follow-up blog or email answering some of the questions asked and provide links for the attendees to learn more about the topic. Not only will this show your event attendees that you care about their needs, but it will also generate valuable content that other customers can benefit from.
Repurpose
Creating large pieces of content takes time. You can increase your events ROI by repurposing your event with OnDemand viewings and replays. You can also offer a transcription of the event and leverage some of that content into a blog post.
Learn how BeaconLive can amplify your virtual events & hybrid events today!
---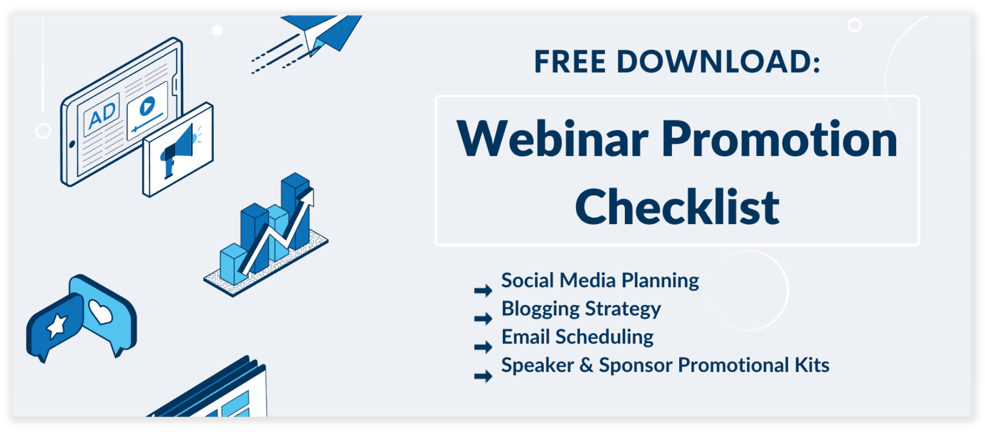 To ensure a successful, highly-attended and well-executed webinar, you will need to promote your event in several different methods. We've developed this Webinar Promotion Checklist to help you engage your target market and increase registrations.
Fill in your email below to download ⬇️
FAQs
How can I keep my virtual events secure?

To keep your virtual events secure, choose the right platform, keep your streaming URL hidden, and use waiting rooms when possible.

How long should a webinar be?

60 minutes is the average time for a live or recorded webinar.