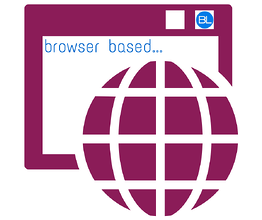 Raise your hand if you've ever arrived late to a webinar because the platform being used required a software download or plug-in? I bet your hand is up right now. This may seem like a small detail we should all be able to overlook, right? Not so fast - what if your company's firewall doesn't allow unauthorized downloads at all? NOW, you're definitely not making it to that meeting. Suddenly, having browsers based access to a webinar is a big deal (as it should be).
If you currently use a product or service that requires clients or employees to crowd their computers with useless software, here's 5 reasons why your business needs browser based software:
"Fast, simple, and easy" -that is the modern day mantra (at least for us). Don't make people do more work by asking them to take extra steps. They should only have to click on a link once and have immediate access to the virtual room.


Not everyone attends webinars from their desktop. Some people are so busy they need to be able to do it all from their tablets and phones -and not all apps and plug-ins are created equal. Some apps will work with the iPhone, while others will leave your android customers feeling left out. But when you use a web based platform your registrants have access from most devices.


Do you really want to reschedule the event you've been working so hard on because the majority of your registrants expressed technological frustration and gave up? We didn't think so (it's just not that easy).


You certainly don't want to have to tell several angry professionals that they have to retake a class ( in order to receive Continuing Education credits) because they didn't enter the web-room on time...Some of them could be lawyers -and lawyers don't take "oops" for an answer.


It's simply unprofessional to ask people to download something into their computer to access your information. Its not like the right technology doesn't exist...
Before you deliver your next virtual event, make sure your registrants can access your presentation from all major web browsers without a problem. Providing a memorable user experience is just as important as the content your're delivering. When you use the BeaconLive platform, not only is there no download required but you can access the webinar from any mobile device around the world.