Virtual Event Strategies
BeaconLive White Papers & eGuides

The Ultimate Guide to Delivering a Compelling Continuing Education Experience to Today's eLearners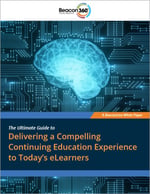 If you're offering a CE, training, or professional development program to the modern learner, you've come to the right place. This comprehensive guide will help you leverage the most effective tools and best practices in order to provide the successful, intuitive and memorable education experience your eLearning end users are looking for.


Key Takeaways Include:
Continuing Education content delivery and user experience trends
Continuing Education technology and how to choose the right CE platform for your needs
eLearning course creation best practices... and more!
---
Lights, Camera, Webcast!
T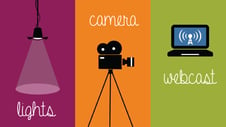 his white paper is designed to help you understand how capturing your onsite event for the live broadcast or ondemand delivery to a larger audience will ultimately increase your events ROI. Learn from the experts what questions to ask vendors, what outcomes to expect and how to get started with webcasting.


Key Takeaways Include:
Understanding the reality of capturing your events for a larger audience
learning how webcasting compliments your onsite event
Insight on the emergence of mobile in a webcasting world
Expert advice on how to get started with webcasting
---
Webinar Success 101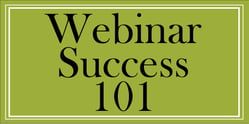 While each event is unique in their setup and needs, this whitepaper offers the general details that will need to be completed by your team to ensure your event's success.
Key Takeaways Include:
7 types of webinars everyone is doing
Pros and Cons of common webinar formats
Paid vs Free events. Which works best for your needs?
4 key components of a webinar
Event preparation, design and execution in 10 easy steps

---
Why Lawyers Can't Deny Content Marketing Stats

Why do most lawyers dislike the concept of marketing? And, how can marketers convince these lawyers that content marketing could actually do a lot of good for their business reputations? Read on to gain in-depth answers to these questions and discover the importance of content marketing statistics, key legal marketing strategies, leveraging various types of content, and turning lawyers "pro-marketing" to enhance their thought leadership.
---
Savvy Marketers Guide to Webinars in 2016
Webinars are an underused tactic in the marketing world, but an incredibly powerful one. They allow you to leverage your strengths and build them into something much more.
---

The State of Legal Webinar Marketing
What is legal webinar marketing and what's the scope of its capabilities? When it comes to webinars in the legal realm, they can serve a number of purposes. In this white paper, we take a comprehensive look at two prime areas in which legal webinars are largely utilized in order to assess the state of legal webinar marketing: 1) Continuing Legal Education (CLE) and 2) legal marketing. Read on to uncover emerging trends, best practices, and key insights that illustrate why and how webinars are used as a tool to effectively market to lawyers.

---
5 Reasons Why the Healthcare Industry Needs Webinars
Leading companies across all industries use webinars to share knowledge, attract new customers, and hone internal processes. But, why webinars, and why are they so important for the healthcare industry? Read on to gain deep insights into the purpose and importance of healthcare webinars and discover five key reasons why healthcare professionals should be devoting a good portion of their time to creating compelling, informative webinars that add value to their brand, share their passion with the audience, create a lasting impression, and, of course, move their business forward.
---
Building an OnDemand Strategy
What's the importance of OnDemand and how can you build a solid OnDemand strategy? Inside, find best practices for creating an OnDemand strategy as well as examples of how it is frequently utilized in the legal realm for continuing education. Discover how you can increase the success of an event considerably, even after it's been delivered live.
---
Virtual Event Platform Comparison White Paper
In order to choose a virtual event provider, you must first understand which qualities are most important to identify. Comparing Full Service and DIY platforms is a solid start. Read on for a comprehensive comparison, and explore the capabilities of various Full Service providers, such as the Accredited Continuing Education platform, web conferencing, analytics, and much more.
---
7 Ways to Increase the Attendance of Your Virtual Event
To successfully promote an event takes precise planning, implementation, and follow through. Before you can even begin thinking about the presentation, you must brainstorm ways to get people interested in attending your event. In this blog mini series, I will outline the process of promoting your event and share tips that will grab the attention of prospective attendees.
---
4 Strategies for Creating Memorable Webinars
Does this scenario sound familiar? Your webinar attracts many, many attendees. You prepare and rehearse. The day arrives, and the webinar goes off without a hitch. Now you sit back, confident and happy, and wait for the praise, adulation, and, most importantly, the sales to come in. But wait. What's this?
While you do have a handful of positive evaluations, you're also receiving ones that indicate your webinar fell flat. You discover that one third of the attendees dropped out halfway through and another big chunk left three quarters of the way through. And you haven't made one single sale. What happened?
---
4 Ways to Make Money from Webinars
Webinars offer an excellent way to start or sustain strong business relationships that make money-if you do them well. You can make money from your webinars in several ways:
Charge for attendance and attract large numbers.
Get attendees to take advantage of an offer after the webinar.
Get attendees to qualify themselves as leads and convert them to paying customers.
These money-making methods for webinars have one thing in common-to succeed, they each require that you create and build a great relationship with your participants. This relationship starts in the planning stages of your webinar, grows through its delivery and continues during the post-event follow up and beyond. At each stage, you can make or break the relationship.
The following four steps for making money with webinars can help ensure that your next webinar builds relationships-and your bank account.
---
The 5 Best Ways to Deliver Your Content
In a recent blog post, marketing guru Seth Godin talked about "the hierarchy of presentations." Godin says, "A presentation is a precious opportunity. It's a powerful arrangement... one speaker an attentive audience, all in their seats, all paying attention (at least at first). Don't waste it."
In a perfect world, we'd recommend Godin's approach every time. But in our global 24/7 world, it's becoming harder and harder to get "face time" with prospects, current clients, or even all of your employees. Still, it's imperative that you deliver content to these groups. But exactly how you do the delivery-i.e. which method of content delivery you choose-is still very much in your control. And that's a good thing.
In this white paper, we're going to discuss the different mediums for content delivery, including audio conferences, web conferences, webinars, video conferences, and on-demand playback. We'll provide the pros and cons for each, as well as examples of industries for which the particular modality might be best suited. It's our hope that this information will serve as a guideline for determining which modalities are right for your business.
---
5 Common Virtual Event Mistakes & How to Avoid Them
One of the more popular portmanteaus in recent memory is the word "webinar," the combination of web + seminar. It's been around since approximately 1998, but it wasn't until last year-2008-that Merriam Webster added it to its new word list.
While holding a seminar on the web makes perfect sense in this fast-paced, 24/7 world in which we live, the steps needed for holding an effective webinar is something that still stymies people, even a decade after the word was invented. And the truth is, as more and more webinars proliferate cyberspace, not to mention our daily work calendars, it's essential that those of us who hold them "get 'em right."