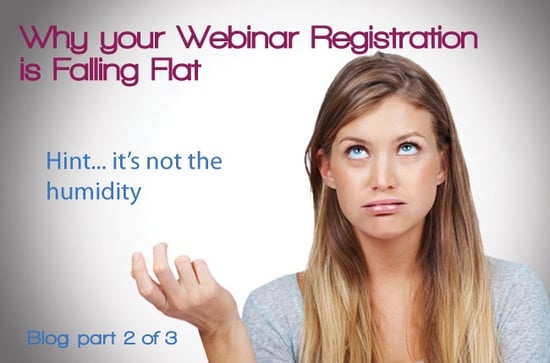 One of the most frustrating parts of planning a Lead Generation event is attracting an audience to register. When you put a ton of effort into promoting your event, only to receive a 40% ROI, its discouraging to try to host another event. This blog is the second in a three part blog series detailing Why Prospects Dont Attend Your Lead Generation Webinar. And while many of the reasons might be beyond your control, we will suggest several ways to combat the no-shows, and turn your event into a 'must-see.'

The good news is your prospects really want the content that you have to deliver. But there is a fine line between accessing really great content, and signing up for spam for the next year. This is a buyers world, and prospects are critics. They can see through the intentions of your lead gen event, so you have to make your webinar so appealing that they cannot risk not attending. Here are some tips to
Scenario #3: People want to attend, but are busy.
As mentioned before, often time is worth more than money. Work Life balance is a hot topic as we see the 9-5, 40/hr work week disappear. We take on more responsibilities, and more projects, so when an enticing webinar invitation lands in our inbox, we may want to attend, but your event is competing with meetings, presentations and other work related projects. So, how do you make your event a 'must-attend'? Here are some ideas:
Its important to choose a time that works best for your prospect to attend, but this doesn't necessary mean it's the best time for you. Mondays are usually busy with checking emails, and following up with work from the week before. Fridays are great, because people are more relaxed. Yet, keep in mind, Friday is the most common vacation day, so you might just miss them. Statistics show that Tuesday through Thursday are the best days, and 11am to 2pm are the best times to deliver a webinar. Consider doing a quick lunch 'n learn during the 12 oclock hour so you can provide great content that your attendee can watch while eating.


But what about the other coast? Thanks to internet, most companies are selling their product or service nationwide, if not worldwide. So when you choose to deliver an 11am webinar on the East Coast, consider that there may be people who want to attend in Los Angeles who have barely made it into the office. If you are doing some quick calculations in your head, you'll find that there really is no good time for every person who might be interested in your event to attend.

Consider this option. Ask your presenter to pre-record your presentation days before the broadcast. Work with your webinar provider to broadcast the recording twice, once at 11am ET and once at 11am PT, then have your presenter join the broadcast of each event to interact with the audience via the chat pod, then hold a live Q&A session following the recording.


Offer an OnDemand option. Regardless of selecting the perfect day and time, there will always be interested registrants that get pulled away, or just can't make it to the webinar. Lead Gen webinars are the best type of events to repurpose in an OnDemand format. They have the longevity to place the recording on your website to continue to attract new viewers in the future. If you plan to make your recording available OnDemand, mention this on the registration page. People often sign up, knowing that a link to the recording will be sent to them following the event.
Your audience is on the go, but your event is not. Its important to make sure your audience has no reason NOT to attend you event. Their location shouldn't be a reason to forgo attending. Always make sure you are delivering your webinar on a platform that is mobile accessible. People today are jumping on planes and trains, watching their kids at soccer practice, or emailing from their tablet while on-the-go. Providing access to your webinar on a tablet or smart phone gives your registrants more freedom to attend your event where they are.
Scenario #4: Your Intentions are a little too Transparent.
While the content in the webinar may have been valuable, it wasn't QUITE as valuable as trading their contact information for a lifetime of spam.
During the registration process, it is important to highlight the content that will be presented and benefit for the attendees to attend the event before selling your company. Again, it seems counter intuitive to promote something other than your company, but you need to show the audience that you are putting their needs before your own.

Sometimes, it's the branding that is not present that provides the best reputation.


In this day in age, everyone knows that they will be added to an email list upon signing up for an event or downloading a white paper. Creating a striking webinar title that speaks directly to the prospects pain points is a great way to reel them in. An event title is just as important as an email subject line, so spend time trying to create a great title.


Of course, this is not an all inclusive list of why prospects don't attend your webinars. Check out the first installment of this webinar blog series, Why Prospects Dont Attend Your Lead Generation Webinar.
Are you ready to learn how to make your webinar a success now? Check out our OnDemand webinar below.