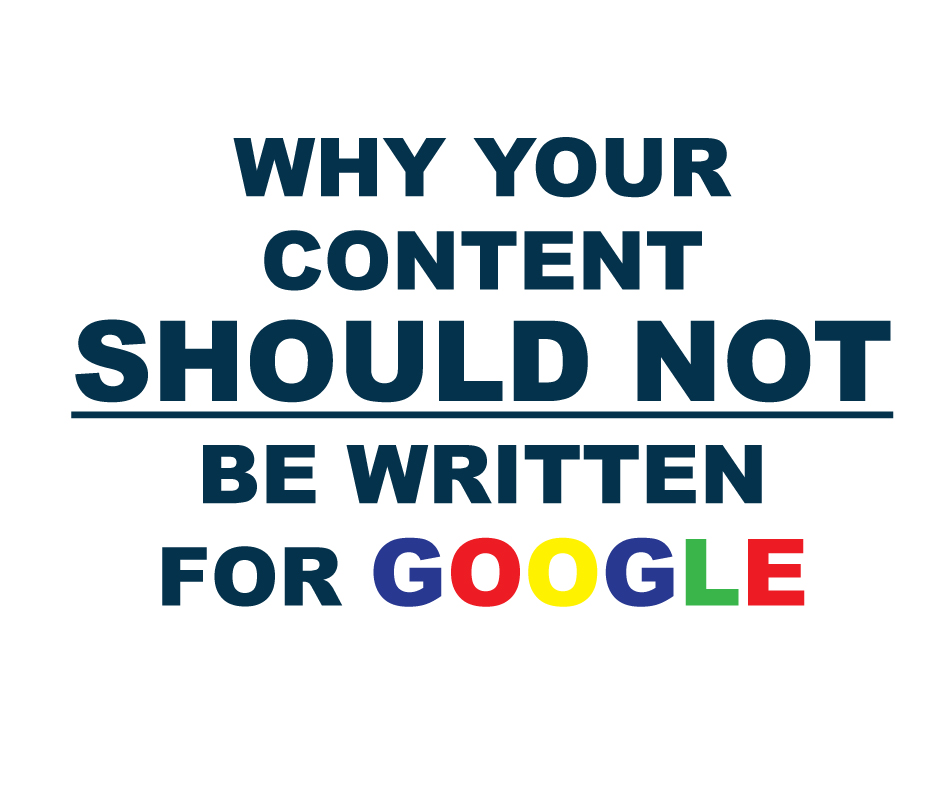 Consider this, your content is your prospect's introduction to your company. Can you afford to deliver a terrible first impression with a poorly written blog and an unbranded virtual event? Or do you want to create an elaborate and educational experience that brings your audience back for more? In this blog, we will discuss Why your Content Should Not be Written for Google, but tailor your content to your audience, (whether that be blogs, white papers, social media posts, webinars, etc.).
Now that we have all joined the Inbound Marketing movement, we know that we need to create really amazing and helpful content for our prospects. Our goal is to be found across all search engines, but with Google's ever-changing algorithm rules telling us how many times we need to use a keyword, or how long our post needs to be, meeting the SEO requirements ends up taking over the content. At the end, you get a piece of content that doesn't really answer any questions or solves any problems.
Do you want to appear on Google with a jumble of keywords, but no real message, or do you want your prospect to find your content extremely useful for their day to day job? The answer should be obvious.
So how do you tailor your content for your prospect (and not Google)?
The first step is to segment all of your prospects and create content for one group.

For example, at BeaconLive, we focus a portion of our marketing efforts on targeting Legal Marketing professionals because we find that our webinar solution works perfectly to fit their needs to reach their audience. Our first rule is to create content that would be useful for these personas.

That's why we wrote the blog, the Six Types of Legal Marketing Webinars, and How to Create a Legal Marketing Webinar Series.

These blogs weren't written just to be found on Google, but for Legal Marketers seeking ways to add webinars to their marketing plan. Our suggestions in this blog are how Legal Marketers can improve webinar delivery, not Google.
The next step is to plan content strategy, or how to show your content to your prospects.

While it seems obvious to tailor your blogs to meet Google's SEO requirements, that takes a lot of time, and even once you have completed the piece, you still have to compete with everyone else who wrote something on the topic. And even then, content doesn't turn to gold over night.

It takes a lot of people sharing and commenting on your blogs before they work their way into Google's top ten.
Wouldn't you rather invest that time into finding where your audience is 'hanging out' and deliver the content there? For example, look into industry related groups on LinkedIn and share your content.

If it's really written as a helpful benefit to the audience (meaning, its not a salesy message) they will eat it up, and probably share it with their connections.
Further, promote your content within other types of content. If you are delivering webinars, attach your white paper in the conferencing materials for the attendees to download, and ask the presenter to mention the useful content. Promote upcoming virtual events at the end of your live webinars with a link to register and attach blog links in webinar email invites.

And don't forget to share your content on social media.
Each of these sharing methods take less effort to deliver, but allow you to deliver a great piece of content that is written for your prospects, rather than for a search engine, because your content is written for an actual person, not a search engine. Want to learn more about delivering your content? Check out our whitepaper, 5 Ways to deliver your content: