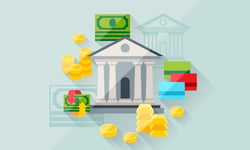 Continuing education requirements can be found across many industries, including the financial services industry. Like many other fields, finance positions rely on their employee's ability to upgrade their knowledge and skills to keep up with the rapid changes demanded by the consumer.
Thus, changes in the economy and in financial regulations require employers to think more creatively about how they can ensure that their employees are notified in time and trained appropriately to adopt the latest practices. One way they are tackling this issue is through the implementation of eLearning webinars. Online continuing education allows employers to provide their staff 24/7 access to a wealth of information.This also puts less stress on their employees because they don't feel pressured to memorize every new regulation introduced to the industry; they just have to know that it exists and where to find it.
This new reality can also help new professionals navigate the industry much more easily. In the past, the retention rates for new professionals in the industry was very low. New employees faced a long and difficult time finding a position they were qualified for (since most employers were opting for employees with more experience) and once they were finally did they felt unprepared and overwhelmed by their lack of experience. Continuing education has helped close this experience gap by providing those professionals with ongoing support and opportunity for professional growth.
As the demand for financial analysts and personal financial advisors continues to grow, stay ahead of the game by taking on new online courses and trainings that prepare you to make the next step in your career. As a leader in the conferencing industry, we strive to stay ahead of the game by providing the financial industry with the latest technology to take your events, roadshows, annual conferences and hybrid events to the next level, learn more below: