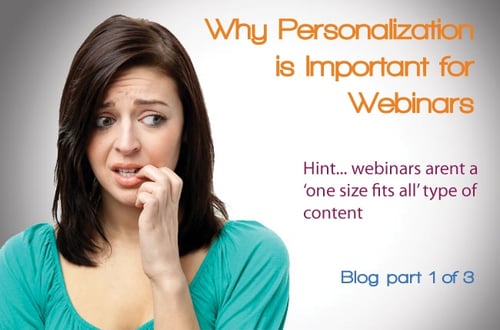 In a buyers market, its important to be in front of your prospect when they need you. Showing your prospective customer that you not only understand their needs, but you have a solution to make their lives easier is the best approach to beginning a successful and trusting business relationship. While most of this seems obvious, we are continually seeing brands drop the ball when promoting content to the wrong personas. When delivering a webinar, its not only important to know who your audience is, but to know who it is not.
In this final blog of our Why Prospects Dont Attend your Webinars, we will discuss why personalization is important to providing quality content.
Scenario #5: Perhaps the speaker/content wasn't right for the group. Is it possible that your content may have been delivered in 15 webinars already this month? It is your job to clearly identify why your persona should attend YOUR webinar over accessing the information elsewhere, even if it means not using the presenter that you feel the most comfortable with or personalizing your content for a more specific audience.
If you are delivering an event that has already been delivered elsewhere, then there is no reason for the attendee to assume they cant just catch it the next time around. If you hire an established presenter or thought leader, ask them to provide exclusive information, or stats in this event that the audience cannot get elsewhere.


Make sure the content is personalized to match audience' personas. Have the speaker talk at their level of understanding, not below them. During the registration process, clearly mention the level of knowledge this event will be speaking to. Mention that the presentation is crafted for Beginner, intermediate or advanced knowledge on the topic. If people are not sure, they may not register.
Scenario #6: You're not promoting your event in the right place. This is where personalization is the most important. If you check out all the blogs on how to promote your webinar, you will see webinar vendors recommend sending email invites, posting on social media, and making personal phone-calls. And while these are all tried and true methods, they don't always reach your perspective audience.
If your sales team is promoting the event to their prospects, make sure they truly understand the content and benefit to attend, or risk the relationship and trust between the sales rep and the prospect. Not every prospect you have is the right person for your webinar.


Don't just publish a post on your LinkedIn or twitter streams. These are rarely seen. Find where your prospects are spending their time on each social network (check out the groups they belong to), and join the conversation. Suggest the event, and the benefits of attending. The more personal you get, the more trustworthy your personas will find you.


Try creating very targeted ads in social networks. With LinkedIn, you can post an ad that will guarentee a certain number of impressions, or pay per click. Personalization means creating a profile of that person, including what industry they work in, what their title is, what geographic area they live within, and what groups they belong to. Your ad will then scroll with their news feed, and each time someone clicks, you will be charged.
This blog concludes the webinar series that examines the 6 reasons why prospects are not attending your webinar.
Hosting your past webianr recordings on your website is not only smart, but a great way to increase your ROI. Check out our white paper on Building an OnDemand Strategy