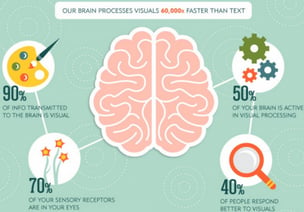 As the number of ways for distributing informative content continues to increase, so does our workload. Social media platforms such as Twitter, Facebook, YouTube, Instagram, Pinterest, and Vine are the new standard for storytelling; their visual elements provide a powerful opportunity for law firms to differentiate themselves from the competition and demonstrate their knowledge and understanding of their target audience. After all, people like being able to relate -even with companies and law firms- as it helps them feel understood at a deeper level than the mere surface.
Before deciding on a visual approach, lawyers and legal marketers need to identify the most accessible platform for your audience to interact with; YouTube has become the all-encompassing outlet in recent years, drawing in every possible audience that's relevant with brief "to the point" videos that set out to answer and solve 'universal' problems and issues --motivating your audience to reach out to you for more.
However, like all things in media; YouTube has reached a point of saturation, forcing us to seek out other alternatives where we can share our story in a more personal way (such as how Instagram and Vine allows). Either way, people react differently to various types of media -whether it b eimages or video- so diversifying your story across other channels is not only the most effective way of reaching out to your audience but also the most 'personal' for them.
Typically, telling stories through content creation -including visual storytelling- is a bit out of a lawyer's comfort zone. So, how can storytelling for lawyers help to successfully leverage their content? Here are 4 key questions they should be asking themselves:
What is the story and narrative behind everything you do as a company? How can you tell that story visually?
How do you connect with people in the language and platform they understand best? Are you using the right channel?
What types of stories and visuals appeal to your target audience?
What about the stories your audience is already telling? How can you incorporate them into your content? Are they creating relevant images you can curate and share through retweets or regrams?
Visual storytelling is not limited to the "creative world" only, there's a serious need for it in the legal marketing sector if we want to understand how a product or service has the power to change our lives. Learn practical use of new social platforms for storytelling and new ways to use visual elements to tell a story in our upcoming webinar, "Visual Storytelling for Legal Marketers" on Wednesday, September 23th, 2015.