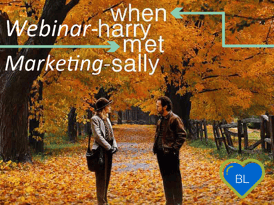 We all know what happened when Harry met Sally, right? All great marriages start with the initial meeting – and in this case, it was webinar delivery meeting a marketing automation platform. Here, we'll discuss why the marriage of webinar delivery and marketing automation is a great one, and explain how integrating webinar and marketing automation platforms can help marketers optimize their marketing programs and accelerate prospects through the buyer's journey.
Webinar Knowledge is Power
Industry benchmarks have increasingly supported the benefits of webinars and marketing automation. According to a study from market research firm SiriusDecisions, webinars have become a primary marketing tool to help drive sales. As customers and prospects continue to self-educate, more buyers are turning to webinars as a chief source of information before making a purchase decision.
Marketing Automation Matters
According to Forrester Research, 58% of top-performing companies, in which marketing contributes more than half of the sales pipeline, have adopted marketing automation. Sophisticated marketing automation tools allow the marketing team to understand the evolving needs and behaviors of prospects.
When it comes to marketing automation, bigger data leads to greater visibility. By capturing your customers' interactions (such as webinar activity) in a marketing automation platform, you can tailor your email communications, considering every individual's experience. The result: your prospects and customers will feel more valued, and a greater number of leads will become sales opportunities.
Why Integration?
Integrating webinar delivery and marketing automation will pass over 30 types of metrics to the marketing platform, such as viewer duration, behavior, engagement score, poll responses, and questions. Some key benefits of this integrated approach include:
User engagement metrics can be used in lead scoring algorithms, allowing marketers to more effectively identify sales-ready leads.
Webinar analytics can be used to tailor and refine lead nurturing programs, allowing companies to accelerate opportunities in their sales pipelines.
Ready access to webinar metrics (such as viewer activity) allows sales representatives to be more effective in their post-webinar interactions with prospects.
Customers can use marketing automation to build their own registration pages on their site, send email invitations and reminders, and link them seamlessly to the webinar platform.
The integration allows for the delivery of personalized and highly relevant messages to customers and prospects.
In order for marketing teams to be successful, they must act on data using marketing automation to determine when and what to communicate with customers and prospects. Using webinar data in marketing campaigns allows you to send personalized messages during all phases of the buyer's journey. The combination of webinars and marketing automation allows marketers to identify sales-ready leads in real time and follow up with the most qualified prospects immediately. This integrated relationship can take your business to the next level.
It's always a good idea to get a marketer's opinion on webinar delivery. Check out the Savvy Marketer's Guide to Webinars in 2015 to freshen your approach!