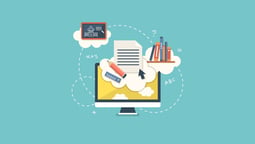 A new school calendar year is around the corner and already there are so many new learning trends to catch up on! In the healthcare industry, we've seen how communicating via webinars can break down collaboration barriers and enhance the distance learning experience for CME professionals. But as new technology is developed and new shifts in the industry occur, there are, of course, new distance learning trends to get excited about—and prepare for:
Program shopping: in previous times, the student had a very limited list of educational programs to choose from when it came to finding the right learning path. Today, the variety of online platforms (for learning) is so vast and rich that many organizations can easily develop their own program around what the student needs instead of relying on what the software developers allow. Consequently, this results in better applications and more effective courses.

M

icrolearning:

as people's attention spans get shorter it becomes increasingly important to create content that fits their lifestyle

and learning preferences. Some scholars might argue that short bursts of learning are much more realistic than long one-hour presentations that don't really fit our human cognitive architecture (source: The eLearning Coach). Try creating a short series around your content as opposed to squeezing as much information as possible into one session. People will appreciate it.

Greater personalization: as with most marketing and sales programs and technologies, eLearning will also become even more personalized. Organizations are realizing the benefits of providing a tailored experience to their attendees and are opting to partner with eLearning providers who can help them deliver a more personalized and customized experience. This can come in many ways such as the ability to create a profile or account where your credits, viewing preferences, and requirements are tracked and easily accessible.
Mobile learning: in the past, most people have tackled the eLearning industry from their desktops. However, mobile learning has been getting enough traction to make us consider creating learning material that specifically caters to the mobile audience. Expect to see an increase in slideshow presentations with less text and more images, as well as other aspects necessary to delivering an optimal user experience.
As the healthcare systems landscape shifts from one based on volume to one based on quality, outcomes, and costs, the implications for continuing medical education are significant. Learn how accountable care organizations, value-based purchasing, bundled payments, shared savings, and the growing transparency around quality is affecting physicians and other healthcare providers in the webinar below: