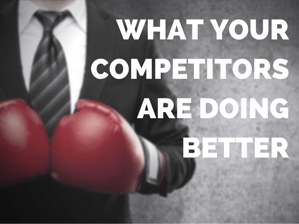 The reality of the legal industry is that people are no longer turning to the yellow pages or their friends for legal advice or attorney recommendations; they're turning to google.
"More than 35% of legal consumers start their search for an attorney using online resources" (Rocket Matter).
Meaning, word-of-mouth recommendations are now valuable only when they can be found online (i.e. an online review or a social media share), provided that you're actually "there". Needless to say, you have to maximize your digital presence withing the legal industry in order to appeal to new clients. Legal marketers know this, we've asked; the obstacle is getting their attorneys on board.
The best way to persuade attorneys, who are the masters of persuasion themselves, into believing that a strong online presence is worth their time and resources is by showing them what competitors are doing and how its helping them drive new business. Here are some stats and facts to help you accomplish this:
26.9% of law firms today have legal blogs (LexisNexis), and that number continues to rise as more law firms realize the benefits of providing helpful content to their prospects and clients online.
39.1% of blogs resulted in clients or referrals (LexisNexis), once again demonstrating the importance of having useful content to bring people's attention to your law firm.
Businesses that blog get 55% more web traffic (Larry Bodine)

.

Nowadays, having a web page isn't enough; in order for your law firm to come up first (or close) on the first page of google, your site pages must all have been properly indexed and ranked highly --which depends on how "useful" your content is found in relation to the search query entered by your potential prospect. The best way to do this is by providing as much helpful content possible on your website via your blog.
Nearly 40% of all small law firms don't have websites (RocketMatter). Imagine that? That means if you have a website you're already one step ahead, and if you have a blog there's no reason why your phone shouldn't be ringing! On the downside, if you have neither you're at major risk.
Helpful law firms provide helpful content in numerous ways, including legal webinars, because content marketing is more than your blog; it encompasses everything that allows your law firm to tell your story and acquire new clients. Find out

why lawyers can't deny content marketing stats here

.
We understand that most lawyers don't have a natural inclination for marketing; however, that doesn't mean they can't learn to. Uncover the best practices for guiding lawyers out of their comfort zones and find key content marketing stats in our offering below.