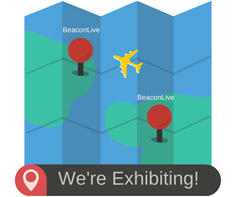 November is shaping out to be a pretty busy month for the BeaconLive team – we'll be all over the map starting next week!
Nov. 10 - 12
First off, two members from our Marketing Department, Shelley Trudeau and Leidy Restrepo, will be joining other B2B professionals in Miami for SIIA's Business Information and Media Summit. It is the largest gathering of B2B Media Executives with over 45 sessions and dozens of networking opportunities.
Stop by the BeaconLive booth to discuss new marketing strategies with Shelley and Leidy and to learn how you can add webinars to your marketing toolbox!
Nov. 13
That same week, our VP of Sales and Marketing, Scott Bradshaw, will be attending LMA NE's Conference "Simplify To Maximize" in Boston. As the technology provider for the American Bar Association, several AM200 law firms, and professional CLE providers, BeaconLive understands the critical role technology plays in the professional lives of legal marketers.
While you're there, ask Scott to explain how BeaconLive has partnered with legal marketers and law firms to build a collaboration of ideas and deliver flawless CLE events.
Nov. 20
Lastly, our National Sales Director for the Healthcare Services Division, John Craine, will be attending the Annual Mid-Atlantic Alliance for Continuing Medical Education Meeting on Thursday, November 20, 2014 (Harrisburg, PA).
You're invited to join John the night before the meeting to the Welcome Reception BeaconLive is sponsoring at the Best Western Premier Central Hotel. It's shaping out to be a great meeting so we hope to see you there!
Stay up to date on our upcoming events by connecting with BeaconLive on LinkedIn.