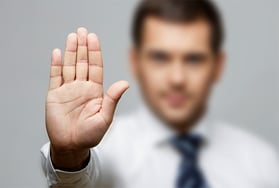 Preparation for hosting a successful live webcast amounts to a lot of work. Take, for example, the average lead time required for developing a live event: 6.7 months. And that's not including the follow-up work that takes place after the event is said and done.
In this blog post, we'll discuss three important mistakes to avoid when broadcasting live events—because a well-orchestrated webcast will feel effortless to your attendees, and that's the kind of deliverable you want to promote and showcase online after all.
1. Do not assume you know everything about your audience. It's always best to ask for suggestions and feedback prior to preparing for your event; people will be more motivated to attend the webcast if it means they can expect their questions to be answered. If you want some tips on organizing your timeline, we have a guide on preparing your webcast checklist and timeline for you.
2. Do not forget to emphasize participation from all the viewers—both online and in the room: all too often, webcast viewers are deemed as second class participants when compared to attendees at the live event. Alternating questions from the webcast viewers and the live audience allows you to draw people from both audiences into the discussion. As a bonus, this also gives you two different groups to draw questions from, helping provide you with a wide variety of material for your question and answer period.
3. Do not forget to work with your presenter to come up with a PowerPoint slide presentation that works for the in-person attendees, as well as the online attendees. Keeping the presentation short, with little verbiage works best for keeping the attendees tuned into the presenter, not reading the screen.
A successful webcast involves more than just a camera and an Internet connection. There are a number of friction points with potential clients that can undermine the success of your webcast. Bringing in a professional webcast company can help you bootstrap past the learning phase by leveraging their expertise to improve your webcast results. Our qualified and experienced staff are ready and equipped to answer your questions, and meet all of your webcast needs!