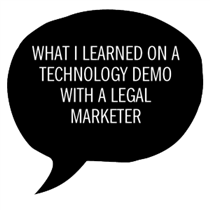 As the VP of Sales and Marketing, I have the privilege of working closely with our sales and account management teams during technology demonstrations; providing me with the ability to sit back and really listen to what the customer is saying, what their needs are, and what is important to them.
Although every customer is unique, there is a common theme that might be of interest to those delivering virtual events. In fact, there are many, but to keep this short I will address 2 a week over the coming months.
"I need someone to manage the event for me"
There are lots of company's who will offer you their technology for a fee, but provide you no support. This forces you to be the event producer, responsible for all the details (of which there are hundreds) in order to deliver a flawless event for your webinar / webcast attendees. This is not your core competency – being a legal marketer is. Find a company with a great reputation delivering exactly the kinds of events you want to deliver. You shouldn't need to conform your ideas into the restrictions of their technology. Be creative and use their resources to deliver your events your way.
It's not their show – it's your event. You should be able to customize the login page, the event lobby, the web room, the greetings, splash pages, logos, banners, fonts, colors, etc. You get the idea – the technology exists out there today and it is very customizable.
Tired of people having to download a vendor's plugins and software to attend your virtual event? Who could blame you? It needs to be hassle free, professional and flawless. The audience should have a choice of how they want to watch / listen.

Let the attendee decide

what technology they want to use so they can truly appreciate the experience you are delivering.