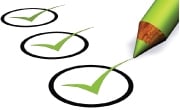 Are you using every opportunity available to promote your webinars? Match your promotional plans to our webianr promotions checklist to see what we do for our internal webinars at BeaconLive to boost the registration rateof your next event.
Just as important as it to partner with a webinar provider who will work with you throughout the process of building and delivering a flawless webinar, it is important to promote your event through several different tried and true methods.
To help, we have developed a Webinar Promotion Checklist with tested and new ides and suggestions for promoting your webinar.
This checklist includes:
Social media promotional strategy
Email invitation delivery schedule
Promotional analytics suggestions
Social networking graphics requirements
Ideas for building Speaker and Sponsor promotional kits and more