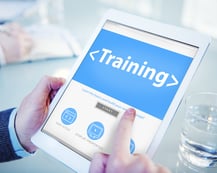 Expert sales teams know that the key to their success is being able to deliver their pitch promptly and effectively: time that's not spent on nurturing qualified leads is money lost on the other end. One way sales executives can address this time concern is by utilizing content delivery software to replace traditional instructor-based training with e-Learning; "e-Learning saves businesses at least 50% [and] not to mention that e-Learning cuts down instruction time by up to 60%" (elearningindustry.com). Read on below to learn how your sales team can utilize these virtual training best practices to save on time and resources:
Leveraging Your Platform
The best results come from the best preparation; meaning, if you've never delivered a virtual training session or webinar before...it's best to equip yourself with the most experienced content delivery provider. Find a vendor who has extensive experience in delivering continuing education programs and who can lead you before, during, and after the event.
The sales field should be particularly interested in this because with the amount of traveling and remote employees involved, its becoming more and more common for companies to host virtual meetings and online trainings to fulfill their training requirements.
Getting Better Engagement
If you don't want your attendees to split their attention during your presentation, then ask for feedback within the web room. Using live surveys/polls, you can ask questions to the audience periodically throughout the event, and then speak towards their responses. While this requires you to stay agile, it provides an increase of more than 90% of active engagement.
Don't forget that the virtual event begins before the webinar is live. Consider asking your attendees for requests about what they would like to learn; and if they offer a relevant suggestion, consider adding it to the webinar agenda. If you do plan to discuss the topic, send an email to the attendee before the event to let them know that you will be using their suggestion.
Learning Styles
One eLearning benefit perhaps we don't often talk enough about is the benefit to the employee and their information retention success rate. Traditional trainings ask that employees complete their learning requirements under a strict timeline and specific work environment. The main reason for this is that the person leading the training is on site for such a limited amount of time that lessons need to be "crammed in" to achieve all the lessons at hand.
However, it doesn't have to be that way: by breaking down information across time in the form of virtual trainings or webinars, we encourage students and employees to sustain their new knowledge for the long term and to prepare for new information.
Creating a strong strategy is key for better servicing your trainees and furthering their education. Read our white paper below to obtain more in-depth strategies for your virtual training plan!