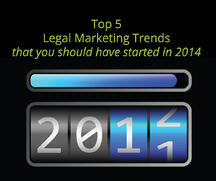 Lately, we've been seeing list upon list of the latest trends as we move into the new year, but how many times can you read another Top 10 Marketing Trends for 2015 before you start deleting emails and scrolling past social posts?
We have scoured the lists of legal marketing trends for 2015, and compiled a directory of the actions that your marketing should have started last year (but we totally understand how marketing teams can get overwhelmed).


Are you still searching for more tangible trends to add to your legal marketing mix? Check out this list of 25 predictions for the legal industry in 2015.
Still working on 2014's trends? Check out our OnDemand webinar on Big Data, and learn why Law Firms should care.