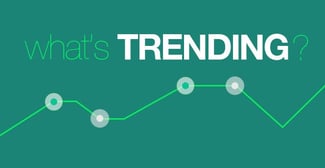 Staying up-to-date on the latest eLearning trends impacting CPE providers in 2016 is not only crucial for anyone delivering online trainings and webinars, but it's inevitable. To help, below you can find our top 5
eLearning trends for 2016
– hot off the press! Here's what CPE providers need to know to up their game this year:
Resources:

While eLearning is effective for discovering new information and solving issues that affect us at the moment, its important to also consider what our attendee's concerns will be like tomorrow. Thus, its become increasingly important to create content that fits our lifestyles and learning preferences; specifically, resources that your audience can take away with them after the webinar is over.

Personalization:

Organizations are realizing the benefits of providing a tailored experience to their attendees and are opting to partner with eLearning providers who can help them deliver a more personalized

experience. This can come in many ways; such as the ability to create a profile or account where your credits, viewing preferences, and requirements are tracked and easily accessible.

OnDemand Video:

Studies find that roughly

only 36% of registrants actually watch the live webinar. But, what about the other 64% of people who registered? Well, 9% end up not viewing the webinar at all, but 55% of registrants view the recorded video, that is

if you have one. Many viewers are busy; OnDemand allows you to create content that fits their lifestyle.

Mobile:

Having responsive web design (optimized for mobile) is not an option when your business depends on people accessing your content online.

It's expected.

If people can't access your content within seconds, you've already lost them.

This means slideshow presentations with less text and more images, as well as other aspects necessary to deliver an optimal user experience.

Gamification:

"A

lmost 80% of learners say that they would be more productive

if their university/institution or work was more game-like" (Talent Blog). Finding new and fun ways to engage your learners is not only necessary in order to keep their attention, it's also crucial for 'outside the box' thinking. People who are motivated and interested in an activity (through gamification) are more likely to spend more time trying to resolve a problem.
When it comes to eLearning trends, its better to stay ahead of the curb than to wait too long to join them. Providing an exceptional learning experience will always resonate with your attendees and keep them coming back. To further understand how user experience affects customer satisfaction we recommend reading: "Why User Experience Matters In the Webinar World".