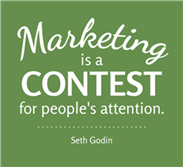 It is rare to find a marketer who feels like they have enough time or an adequate budget to achieve their goals. In our modern, electronic world, your marketing messages don't just encounter competition from the business next door, they encounter competition on a global scale.
"Marketing is a contest for people's attention."
Seth Godin

How do you stand out in the contest for attention? The solution to this question might be simpler than you think. 51.9% of marketing professionals consider video to be one of the content types with the best ROI.

Over half of professionals in the industry value video marketing as a must have tool, yet many people continue to feel that this medium requires skills they don't have, incurs excessive costs, or just takes just too much time and effort. Not all video has to be complicated or expensive. A well-planned webinar or online presentation can provide the material for dozens of short videos with a little simple editing. But a webinar can still feel more complicated than a simple blog post, so this raises a question:

Is Video Worth the Effort?

According to DigitalSherpa, websites with video are 50 times more likely to appear on the first page of search engine results. DigitalSherpa also found that 80% of online visitors will watch a video, while only 20% will completely read a piece of written content.

A video of your subject matter, product or service, helps you rank higher in search engines and makes it more likely that your visitors will actually consume the content you produce instead of just skimming it and moving on. Ask yourself again…is video worth the effort for you?
Learn more about putting OnDemand videos into your marketing mix to win the contest for attention.
---