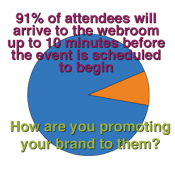 Unless you have a multi-million dollar marketing budget, you're probably not putting your brand in front of millions of people. But your content and expertise isn't designed for a Super Bowl sized audience, its meant to be delivered to a niche group of people who will understand and benefit from what you have to tell them.
Wouldn't it be great if you could promote your brand to a relevant, engaged and captive audience?
Our statistics show that 91% of all attendees enter the webroom up to 10 minutes prior to the live event beginning. This is prime real estate for a company or organization searching for ways to promote their future events, news or information to their webroom audience. In response to this finding, BeaconLive has built the capability of hosting an Event Lobby within your webroom prior to the webinar or webcast beginning. Nearly anything you think would be useful to put in front of your audience is do-able, including:
Streaming videos (commercials for upcoming events perhaps)
Group or presenter chats
eCommerce products (such as books, and future virtual events)
Event sponsor logos, links and mentions
Presenter bios, social media links and contact info
Live event countdown clocks
And more!
When you don't take advantage of an attendee's willing participation, you lose the contest for their attention to emails or social media accounts before your webinar even begins. Hosting an Event Lobby for your attendees builds upon the experience they are having with your company or brand. Simply put, an Event Lobby is the icing on the cake: it's the most talked about portion of any event.
Are you interested in learning more about how BeaconLive can help construct a professional brand experience for your attendees? Schedule a guided tour of BLW today!