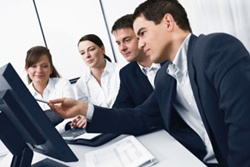 BeaconLive has added a new registration tracking feature that will change the way the Continuing Education Industry tracks and verifies group attendance. In the past, anyone wanting to receive CE credits for attending a continuing education event had to register and attend from their own personal/work computer --regardless, of being part of a larger group (viewing from the same computer).
Going forward, if there are numerous people attending the same CE class in the same room, only one person is needed in order to track several attendees at once. Here's how it works:
Only one person is required to log in and confirm all the resgitrants / attendees in the room.
Only one person is required to enter the "active participation" test code on behalf of the attendee's in the room.
The person leading the registration / participation is a direct and equal representative of everyone involved; if they neglect to enter the active participation test code when required, everyone registered under that person will be affected equally.
Upon succesful completion of the event, everyone registered will receive a certificate of completion in their Email.
This continuing education feature was added to facilitate our participant's eLearning registration and experience with our platform. As a technology company, it's very important to us to improve, innovate and exceed the continuing education industry standards.
After all, BeaconLive's platform was specifically crafted to help our Continuing Education and eLearning customers meet the requirements set by the multiple industries' accrediting providers without adding more work to their busy schedule.
Learn how BeaconLive can verify active participation, administer and grade final exams, provide certificates of completion, and much more on your behalf.