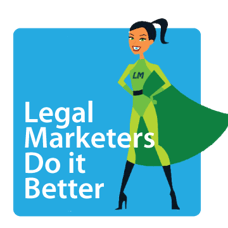 Legal Marketers just get 'It'.
It's easy for people to think that all we do as marketers is create cool ads and play on twitter, but the legal marketers at #LMA15 understand that content marketing is more than just a trend; its the new way of thinking.
LMA's marketers understand inbound marketing, and how to work with their firm's lawyers to create new content for client retention, business development, and thought leadership. As a marketer, it's surprising to come across other industry marketers who still think outbound calling and email marketing is the way to gain prospects and retain clients. Hence why it was exciting to be amongst marketers (at LMA) who are leading the shift of marketing into the future.
Legal Marketers are Superstars who get stuff done.
Reputation management and thought leadership is harder than it sounds, especially when you have to sell your marketing ideas upstream to your CMO (including a lawyer who negotiates for a living). The legal marketing professionals that we met with at LMA had notebooks full of ideas on how to increase communication within their firm, while carefully crafting a brand around the lawyer. We were surprised to come across so many marketers who were solely responsible for creating marketing plans for upward of 140 lawyers. To be able to go into the office everyday and not only meet, but to surpass the requirements of these highly demanding people makes them marketers superstars! We don't know what you have in your bag of tricks, but we would love to hear more.
Legal Marketers are Mavens.
Often, in many industries, people hold their industry tactics close to them to ensure their competition doesn't steal their "secret sauce". This is far from the truth about the marketers at #LMA15. Every person we spoke with was willing to share their ideas, give feedback on what worked and what didn't, and brainstorm ideas as one group. It was not only inspiring, but wonderful to be a part of it. The initial rule of content marketing is that you have to give to receive, and the LMA marketers were an excellent example by sharing their tips and tricks with anyone who joined the table. LMA marketers are true mavens, and the ones we should all watch for in the future.
Friendships thrive beyond firms and SIGs.
The first day of the conference, we were standing at our booth talking about how our t-shirt promotion was developed when, all of a sudden, we would be interrupted by shrieks followed by friendly hugs. It seems, friendships were bonded during a previous LMA event, nurtured via social media and email, and rejoined at #LMA15. There is a saying that your goal should not be to network, but to make friends with them. Friends are the ones you turn to for advice and share in each other's achievements. We all know that personalization reaches the target better than a generic email, and it seems that the attendees of LMA events truly understand the importance of building relationships with their peers, wherever they may be.
Legal marketers don't want to be sold to.
Dan Pink said it during the keynote, and the theme held true throughout the rest of the conference, we do not want to be sold to. The shift of content marketing has shown us how the buyer has changed over time. When they once had few choices, they now have many. When they once had little information, they now have an over abundance. When they once had no way to discuss ideas, they now have multiple methods to voice their thoughts. Buyer beware has turned to Seller beware.
Our job as marketers is help make the buying process easier by providing as much useful content to help the buyer make the best decision, whether this be bringing on a new client to the firm, or providing professionally delivered CLE or thought leadership webinars. As marketers, our team fully embraces this idea. I invite you all to provide suggestions or requests for what type of information you want. Is there a webinar you would like to see? Let us know, and we'll find a presenter and deliver it to you and your peers. Is there a best practice white paper you want to read for tips and tricks? Let us know and we'll create it for you. After all, we're marketers too.
Interested in learning more about delivering webinars? Check out our latest eBook, "The Savvy Marketer's Guide to Webinars in 2015":