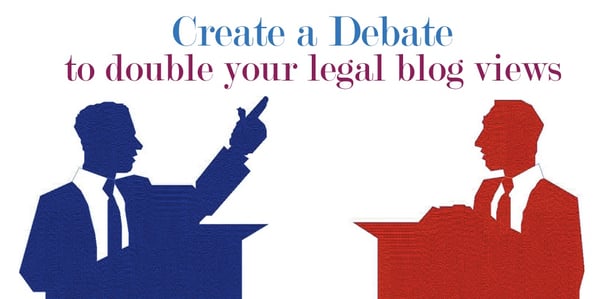 LinkedIn has done it again. No longer are they just the professional networking medium of choice, but they are now a publishing platform with the introduction of Pulse - A platform that allows you to publish long form posts on the site. Here is one way you can take advantage of Pulse to increase page views, while encouraging attorneys to participate in the content creation. Heres your Legal Blogging tip of the day!
Create a Debate

Simply (better said than done, we know) recruit two lawyers from your firm to participate in writing their perspective on a controversial debate. As incentive, create a contest amongst the lawyers to see which blog gets the most views in a week, because one thing lawyers love more than debating is winning.



Publish both attorneys blogs on your website, then take snippets from each to create a shorter blog. This new 'snackable' blog can then be published on LinkedIn's new publishing platform, Pulse. Publishing excerpts of each blog will not only expands your contents visibility to all of your connections (and the connections of those who like/share it), but it also directs readers back to your original blog posts on your site.

Take this a step further by asking your other attorneys in the office to weigh in on the topic in the comments section to boost the blogs rankings. The more people who comment and share, the higher the post climbs in popularity and gains exposure beyond each persons network.

Keep in mind, do not publish your blog post verbatim on LinkedIn Pulse. Google has algorithm's that can tell how unique your content is when they index the site, and with LinkedIn's credibility, that post will likely outrank the blog posts on your site.

Interested in learning more about how to legal blogging for Law Firms and Attorneys? We have paired up with a legal marketing expert blogger for an upcoming webinar, Blogging for Legal Marketers. Check out the snackable half hour event to learn some ways to get started.