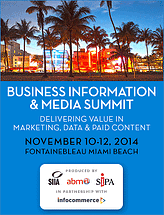 Recently, two members from our marketing department attended SIIA's Business Information and Media Summit in Miami, to learn what new innovative marketing strategies other B2B professionals are looking for within the publishing field.
The conference offered five different tracks: Data Content, Marketing & Subscription Sales, Marketing Tactics that Work, Media Sales, and Strategy. Our favorite key take-aways come from the 'Marketing Tactics that Work' track, though we know the other tracks had plenty to offer as well.
How to Write Killer Copy
Thou Shalt Always Offer a Benefit. This is something a lot of marketers have a hard time understanding: information and news are not a benefit. A benefit is something that makes the customer feel great because they can now solve an issue or do their job better with your benefit. News and information doesn't really make us feel good.
In Jim Sinkinson's (Fired Up! Marketing) Email example about subject lines, he posed a question with a benefit: "What if I told you I could increase your Email response rates by 25%?" The question is an igniter (it sparks interest) and the percentage is the quantifyable benefit to the customer should they decide to proceed with reading your Email.
By the way, the answer is video. The word "video" in yoru subject line can increase your Email response rates by 25% according to Jim.
Active Listening Approaches for More Effective Marketing
Today's Omni-Channel World poses a challenge for the content creators struggling to capture the modern audience and their brand loyalty. Keeping up with today's audience means going mobile, being on social media, and being on top of every major trend before its over. With so much to keep in mind, how do you stay relevant and give your audience what they want?
Speaker Kevin Novak (2040 Digital) believes the answer to effective marketing is using a satisfaction measurement tool such as the Net Promoter Score (NPS) system. Your NPS is based on your user's answer to the simple question: How likely is it that you would recommend our company/product/service to a friend or colleague? The feedback you receive will reflect changes you need to make and tactics you should continue.
Segmenting and Targeting for Better Marketing
Sending emails and offering promotions to a mass Email list that hasn't been carefully assesed can be more damaging to your database than you know. Cynthia Carter (FDAnews) suggests segmenting your list by recency (how active) and offering promotions (that speak to what your segmented users care about) through a landing page. Promotions should lead to a fair exchange between the customer and you: "You will receive this white paper if I can have your Email".
Continue fostering their interest by offering similar content. Many websites will have a pop-up box or side menu with the title "want to see more of this?" followed by a link to another source. You want to keep your audience on your website for as long as possible and be interesting/helpful enough that they will want to come back.
For more conference highlights see our summary of ACLEA's 50th Annual Meeting in Boston.