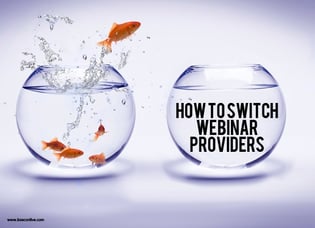 If you already have a webinar provider it may seem easier to just stick with what you know, right? Or maybe you're just bounded by a contract or simply lack the bandwidth to find a new provider (and learn the new software). However, changes in your webinar requirements or inefficiencies from your current provider may be good reasons to look at what competitors are doing and what other providers have to offer in order to improve your webinar's performance.
Don't let fear or lack of time get in the way of finding new alternatives; many webinar providers today make it easy for you to try their product by waving the need for a contract, allowing you to test the waters before taking the plunge. However, if you are currently bounded by a contract, there are things you can still do before switching webinar providers.
How to Switch Webinar Providers:
Let the new prospective webinar provider know when your contract (with your current provider) ends. This will help them know when you will be ready, and it will also give them an opportunity to better understand why you are leaving your current provider and how can they exceed your expectations.
Start a few free trials (if the provider offers it) while you are still in contract with your current provider --especially if you're unsure whether it's a good idea to leave or stay. Two things can happen: either you realize that your provider is doing what its supposed to do, or you realize they are lacking in many areas. Either realization will help you assess your webinar program's success.
Get a quote. Cost is usually the main reason people look into changing providers or software. However, you usually get what you pay for. Meaning, if you're currently dissatisfied with your current provider it may be because you didn't go with the best option for your company. To get the level of service you're looking for you may have to reevaluate your webinar program's budget. However, this doesn't mean go with the most expensive option in the business, there are several companies that can satisfy your expectations under budget; it will just require some thorough research and patience to find them.
Lastly, if your dissatisfaction with your current provider comes from their lack of delivering the service promised and they are costing you more in damages than they are worth, you may be able to terminate the contract without penalty. Most contracts are based on deliverables, giving you the power to end the partnership without violation as long as you can prove their failures. It may be wise to get your company lawyer involved for this portion as they will be able to tell you better if you have a case.
Holding on to partnerships longer than you should because you're afraid of change and new technology is unhealthy behavior: knowing when to move on or transition is a healthy part of business growth.
Besides, there really isn't that much work involved for you when you find a full service webinar provider to handle the details of your webinar event; after all, their job is to make the technology component the easiest part of your job. Learn how our product pricing works.