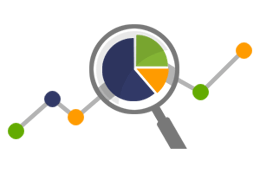 The true value of analytics goes beyond proving that everything you're doing benefits the company. Data analytics also help you identify areas in need of improvement and growth. The more data and marketing analytics companies have, the better they can understand their performance and thus, make constructive and efficient decisions—and the healthcare industry is no exception.
Today's marketing budgets are allocated across a number of channels to successfully reach and maintain every online audience and potential client. Below are some key examples of how those channels can help your healthcare communication efforts for ultimate results:
General practitioners and other health professionals are very willing to attend webinars presented by key opinion leaders, such as consultants. Webinars help to position healthcare institutions as knowledge leaders and, thus, reliable beacons of valuable information.
Offering educational content helps to both attract and retain customers
; and, according to a study conducted by Bain and Company, a 5% increase in customer retention can increase profits by 25% to 125%.
Analytics Tip: If you have access to this type of inbound marketing data, check out the "buyer's journey" for several of your top customers, and see which offers led to converting them from a visitor into a lead. Examine which pages they viewed before contacting your company for help. Then leverage these pages and offers more prominently in your marketing materials, social media posts, etc.
Another effective medical marketing approach physicians tend to forget about is storytelling: your hospital or practice most likely has a mission statement and history that not many know about. Use online content such as a blog, newsletter or healthcare webinars to highlight your practice's story. Start with your staff—they are
"by far the most important asset to your facility and an effective source of telling your facility's story with a human face" (
Referral MD
). Another way of storytelling can include creating a space on your website where you, "profile doctors, nurses, physician assistants and other caregivers on your facility's blog, newsletter, website and elsewhere to help paint a picture of who operates the organization." Putting a face to your organization will help people establish trust before they even meet you.
Analytics Tip: It's always helpful to leverage an inexpensive user experience tool, like Hotjar for example, that allows you to see which of your website pages are generating the most traction, how much time visitors are spending on those pages, where they are clicking and how far down they are scrolling. Are you able to see if users are spending the time to actually read your company story? How are they interacting with these critical pages? If they aren't getting enough views, or these pages exhibit high bounce rates, try adding more interesting images and breaking down the copy into more digestible, bite-sized chunks.
While we don't recommend that you stalk your competitors to copy their content or promotional strategy, we do stress the importance in knowing what they are doing so you can accurately illustrate what makes your content different.
I
t really comes down to providing something new and relevant to stay ahead of the game.
Monitor how your competitors are promoting their services, and take notes. What are they doing repeatedly, and what did they try once and then quit?
A competitor is not always a nemesis, but often someone you can learn from.
Analytics Tip: A great channel on which to check out your competition is social media. Which platforms get the most engagement? What types of content are receiving more "likes", "favorites" and shares? Test out these types of posts on your own social channels and then review the results. If certain types of posts receive greater levels of engagement and click-throughs, put more effort into publishing similar content.
Email marketing on average provides the highest ROI. However, we're all aware of how difficult it can be to get our target audience to open and engage with our email marketing when they're receiving a hundred more email messages from several other brands. However, statistics show that you can increase your email response rates by 25% when you add the word "video" to your subject line and email content. Consider adding webinars to your content strategy as a marketing tool to leverage your healthcare communitcation efforts.
Analytics Tip: The primary indicator of an effective subject line? The email open rate. Take a look at your company's emails to prospects and customers over the past year, and note the subject line for each. Which types of subject lines drove higher open rates? Were they straight-forward and to the point? Light-hearted or sarcastic? Questions? Numbers? Do more of whatever worked best! Moreover, if you find specific emails with both high open and click rates, you'll definitely want to figure out if there is a common denominator that made them pop and drive better results.
Want to discover how the healthcare industry is using webinars? Leading companies across all industries use webinars to share knowledge, attract new customers, and hone internal processes. Download the White Paper below, "5 Reasons Why the Healthcare Industry Needs Webinars" to gain deeper insights into the purpose and importance of healthcare webinars.