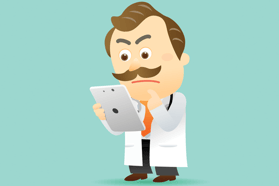 The number of people concerned with their health and fitness goals on a daily basis is higher than ever, partly due to the introduction of fitness tracking devices and overall increased awareness. While this is great news for society as a whole, it increases the pressure small hospitals and clinics are feeling in terms of keeping up with the latest technology available and the most
recent health trends
their patients are participating in.
One of the many goals
medical marketing professionals
need to achieve when building brand awareness is communicating to their patients (loud and clear!) how their hospital is evolving to keep up with consumer demands. People are drawn to businesses that cater to their needs and offer ways to manage their lives more easily.
Think about the last time you went to see your primary care doctor: did he fumble through paper files to search your health history or did he just do a quick search on his laptop or iPad? Most likely the latter. When new patients approach a hospital, not only are they looking for quality of service, they're also looking for ease of experience – which often comes down to how well you're communicating with your patients and what kind of extra "perks" you offer them to keep them motivated and informed.
How healthcare marketers and hospitals can help empower consumers:
An approach many
healthcare marketers
are adopting to
humanize
their hospital's efforts and develop ongoing relationships with their audience is through the use of vlogging. Meaning, taking on a blog approach but through the use of video. Since healthcare content can seem boring and dry at times, this is a great method for getting patients to actually engage with your content. It's also a great way of showing your patients that your doctors are regular people (just like you) who only want what's best for their patients.
Real successful healthcare marketers are taking it a step further by turning their vlog approach into a
healthcare webinar series
. This method is much more organized and invites patients to engage in real time with healthcare experts and industry leaders. Healthcare webinars can a wide variety of subject matter, ranging from health concerns and eating habits to insurance questions and health coverage discussions. As consumers continue to become more proactive about their well being, healthcare marketers and hospitals will undoubtedly need to develop "more ways to engage these empowered consumers to earn their trust and business" (mdgadvertising). For more information, check out
5 Reasons Why the Healthcare Industry Needs Webinars
.